November 3, 2015
Many of the most important movements of our time started small, sparked and flamed by a few passionate individuals determined to make a difference. Some of history's most inspiring changemakers are also quite unexpected, whether due to age, upbringing, or circumstances. That's certainly the case for the five Rookie Playmakers we announced today in partnership with the San Francisco 49ers and the 50 Fund, the legacy fund of the Super Bowl 50 Host Committee.
Despite being young in years, these young Bay Area leaders are already making a big impact in their communities. In coming weeks, Unzipped will profile the individual Rookie Playmakers and share videos highlighting their work in the community.
First up is Dante Kaleo Alnas-Benson, a youth program assistant at the Ecology Center, where he helps manage Farmers' Markets and Farm Fresh Choice Stands and teaches teens in the organization's Youth Environmental Academy (YEA).
Dante has worked with Ecology Center for six years, a journey that began after he graduated from Berkeley High. He signed up for a youth employment program with the City of Berkeley, and selected Ecology Center because he felt it would allow him to do important work and acquire new skills.
"I learned about some of the most serious environmental problems facing us like climate change, water conservation, and toxins in our food from pesticides," he said.
Though his work with Ecology Center, Dante has identified a career path that allows him to do what he loves while making a meaningful difference — offering fresh fruits and vegetables to families in the same community where he grew up.
"I know that change is inevitable, but at the same time, I really appreciate that some things never change, like principles and standing up for what is right. Along those lines, the Ecology Center has always stayed committed to environmental justice. When there is change in society, we make sure we change in a way that does not marginalize others, but instead allows us to grow and change together."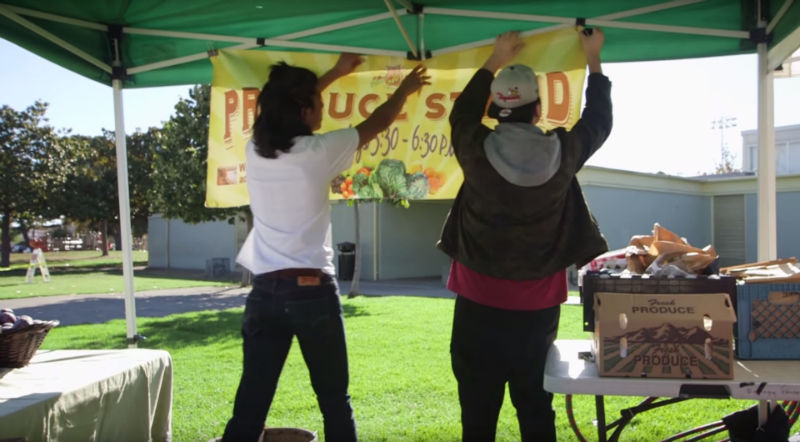 Dante's work with the Ecology Center ignited a passion for advocacy around sustainability. His commitment to helping the environment is something he tries to exemplify in his daily behavior.
"Creating environmental sustainability is a day-to-day thing. How you interact with the world, what you consume, what you throw away, the way you look at people when they walk down the street – do you disregard them, or smile at them – all of these factors hurt or help our environment.  We need to think about how our actions impact our surroundings and make necessary changes to create a better world," he said.
As part of the Playmaker program, the Ecology Center will be awarded a $10,000 grant from the 50 Fund that will support its O-YEA (October Youth Environmental Academy) project, enabling Bay Area youth to participate in local food-related conferences, community celebrations and farmers' markets. The Ecology Center's resources traditionally only allow for spring and summer sessions of its Youth Environmental Academy. The Playmaker grant will make it possible to extend these activities into a fall session as well.
"October is such an important month when it comes to food and farming – it is a harvest month," Dante said.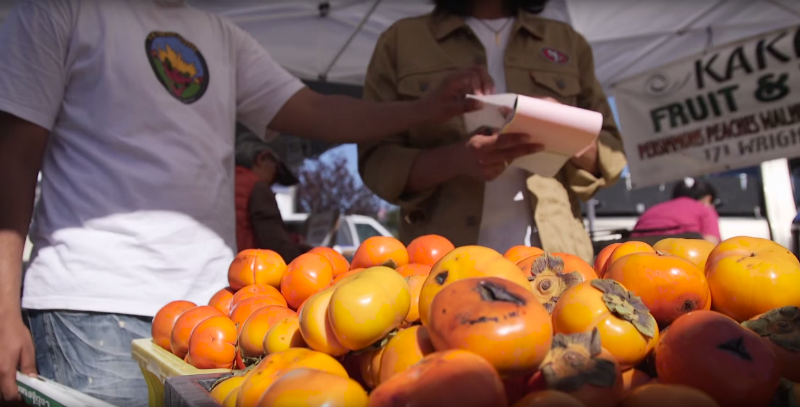 As a Rookie Playmaker drafted by the Levi's® brand, Dante will receive tickets and a VIP gameday experience for a San Francisco 49ers game at Levi's® Stadium.
For Dante, the honor is quite meaningful. He says it places him within a larger ecosystem of strong, long-standing organizations that resonate with the broader community. Similarly, he feels his efforts to help the environment are a continuation of what Berkeley and the Ecology Center have long supported.
"Being acknowledged as a Rookie Playmaker makes me feel appreciated in my community, just as Levi's is appreciated in the San Francisco Bay Area.  It is cool for Levi's and the 50 Fund to acknowledge me as part of the Ecology Center team, just as Levi's is part of the 49ers/NFL and San Francisco team," Dante said.
This recognition will contribute to the legacy of positivity that Dante strives to leave on the world. He hopes to teach others to channel their own positivity to help their communities. And he wants his story to be one that's shared.
"I want my legacy to be a shared story, not just my own; everyone I've ever interacted with is a part of my story. I want to inspire people to do good just as my family, friends, role models and heroes have inspired me."
Like this story?
Sign up for the Unzipped newsletter to get the best of the Unzipped blog — company news and views, employee profiles, innovation and sustainability stories, behind-the-scenes and Archives highlights — sent straight to your inbox weekly.