August 4, 2015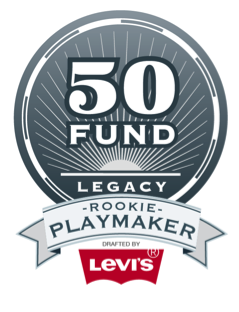 More than 160 years ago, a 26-year old man named Levi Strauss got his start selling dry goods in San Francisco. At this young age, Levi understood the importance of giving back, donating some of his first profits to a local children's organization. In honor of his legacy and the community we've called home since 1853, we're looking to find and recognize the next generation of community leaders – the young people who would have served as an inspiration to Levi himself.
That's why, in the lead up to Super Bowl 50, we're proud to announce a partnership with the 50 Fund, the legacy fund of the San Francisco Bay Area Super Bowl 50 host committee, to draft five Rookie Playmakers, as part of the fund's Playmakers grant program. These Bay Area leaders, though young in years, are already creating an amazing impact through the work they're doing to support nonprofit organizations in our community.
Super Bowl 50 marks a perfect opportunity to shine a spotlight on those making a difference in our hometown. The game will be held at our namesake stadium, and, with the host committee's goal of making Super Bowl 50 the most philanthropic Super Bowl to date, there will be a major focus on the "big plays" happening both on the field … and off.
Although the pigskin showdown isn't until February, the Super Bowl Committee's legacy fund, 50 Fund, already has been working tirelessly to find and recognize the amazing leaders and organizations that make our community an even better place. Through the Playmaker program, 23 organizations have been recognized. They've received $230,000 for projects to help close the opportunity gap for low-income children, youth, and young adults.
Now Accepting Nominations!
Young leaders (ages 13-24) can be nominated by the community organization* they support to receive recognition as a Rookie Playmaker. Here's how the program works:
Identify a young leader who volunteers or supports the organization.
Nominate that young leader by August 31 to recognize the great work they're doing.
If selected, the organization will receive a $10,000 grant and the Rookie Playmaker will get the VIP Levi's Stadium treatment including two complimentary tickets to a regular season 49ers game at Levi's Stadium!
For more information and to apply, visit https://50fund.fluidreview.com/.
*Organization must be 501c3 with budget of $100,000 or more seeking funds for projects to help close the opportunity gap for low-income children, youth, and young adults. See official rules for details.
Like this story?
Sign up for the Unzipped newsletter to get the best of the Unzipped blog — company news and views, employee profiles, innovation and sustainability stories, behind-the-scenes and Archives highlights — sent straight to your inbox weekly.