July 13, 2015
Q&A with Cláudio Pereira, President, Grupo de Incentivo à Vida (GIV)
When 17-year-old Victor Silva told his father he was gay, the response was the opposite of supportive. "You´ll die of AIDS or you´ll become transexual," his father said. Nine years later, his father's words returned to Victor — they had become a premonition.
The discrimination started just a few short days after Victor divulged his HIV status to his father. Within three days, his father told him to start using a different bathroom in the house. After that, Victor decided to live alone and stopped visiting his father.
It's stories like Victor's that inspire Cláudio Pereira to continue his work. He won't be finished, he says, until all people living with HIV in São Paulo can live without fear of discrimination.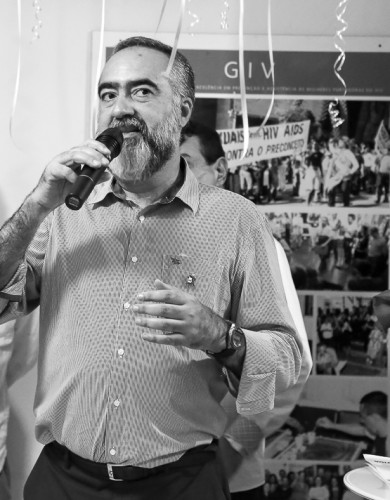 As president of Grupo Incentivo à Vida (GIV), Cláudio is leading the organization's efforts to fight for the human rights of people living with HIV/AIDS (PLWHAs), as well as the populations that are most vulnerable to HIV infection. This includes young people, women, and homosexual men — people like Victor, who today works with GIV as a prevention agent.
Founded in 1990 and based in São Paulo, GIV has already achieved much in its 25-year history. Since GIV's early days, Brazil has seen significant progress in controlling the HIV epidemic. However, there is still much work to be done. AIDS rates among men are on the rise, higher than they were in 1996. Current estimates suggest more than 700,000 people are living with HIV, and on average 12,000 PLWHAs die annually.
In addition, regardless of legislative progress and a vibrant Pride Parade every year in São Paulo, PLWHAs still face rights violations, discrimination, and prejudice, which can deter them from seeking assistance, protection or treatment. HIV transmission, even if unintentional, also remains a criminal offense in Brazil (as it does in certain places in the United States). Hate crimes are perpetuated in São Paulo, often motivated by differences in sexual orientation.
GIV's work, alongside the government and other organizations, is essential to change the situation.
GIV supports PLWHAs and the LGBT community in São Paulo in many ways. The organization provides legal aid for clients who have been denied social security benefits, access to treatment and other entitlements under Brazilian law. Advocacy efforts also include health care workshops, seminars to key government agencies and stakeholders to influence policy, and sensitivity trainings for law enforcement. Clients also receive psychological and therapeutic counseling, as well as dance classes and body therapies.
A proud grantee of the Levi Strauss Foundation, GIV also is a longtime Community Day partner of the LS&Co. office in São Paulo, and has conducted HIV/AIDS trainings for LS&Co. employees.
We caught up with Claudio to learn more about this Modern Day Pioneer and how he works to increase empowerment and access to fundamental rights, build community, and fight discrimination.
How did you become involved with GIV, and why is fighting HIV/AIDS important to you personally?
I first learned about GIV in 1996, when my cousin's partner died because of AIDS. Since then, I became involved with the cause and the human rights issues connected with it.
What is the most challenging aspect of your job?
In recent years, the rise of reactionary positions and politicians linked with fundamentalist movements have sought to prevent major changes in the rights of these key effected populations, as well as attempts to remove progress that has already been achieved. Two clear examples are the enormous difficulty faced in decriminalizing homosexuality (and even getting it on Congress' agenda), and decriminalizing the transmission of HIV (intentional or not).
Could you talk more about the criminalization of HIV/AIDS in Brazil?
Although criminalization of HIV/AIDS transmission has been in effect since 1995, in the past decade, there has been a sharp increase in convictions of HIV transmission in consensual relationships – including convictions for attempted murder. In addition to contributing to stigma and discrimination against people living with HIV/AIDS, criminalization also has a negative effect on prevention because it creates a disincentive for knowing one's (positive or negative for HIV) status. The criminalization of involuntary HIV transmission is a critical human rights issue facing PLWHAs in Brazil, and GIV is recognized as a leading advocate on this issue.
What keeps you motivated every day?
The reasons are many, among them the excellent results that we've achieved through our legal aid (which I coordinate) — we've seen a high success rate in lawsuits filed to ensure medicines, treatments and welfare benefits that have been denied administratively by public agencies. Another reason is our integrated and dedicated team of volunteers.
Is there an accomplishment you're particularly proud of?
There are two recent actions that made me particularly proud. One is "The HIV Positive Poster" campaign (feature image above), a poster and a video telling the story of some volunteers in our institution and the fight against stigma and discrimination. We partnered with Ogilvy and Mather Brazil to create it, and the supportive response has been immense. We've already received requests to use the poster in several cities in Brazil as well as in the United States, the Philippines and Mexico.
Another was the enactment of the law that prohibits discrimination in the country against PLWHAs. Along with director Jorge Beloqui, we spoke in front of Congress twice, once in the House of Representatives and once in the Senate, to advocate the importance of the approval of the project.
What legacy do you hope to leave on the world?
I hope PLWHAs, LGBT people and those most vulnerable to HIV may be seen as any other citizen, with their rights preserved and guaranteed. I hope that LGBT people will have their rights recognized and that homophobia does not prevent them from accessing their health as well as their social rights.
This story is part of an ongoing series designed to feature people who are changing the world in their Levi's®. Our Modern Day Pioneers are impacting everything from culture to social issues to the environment, and they're challenging the status quo in a unique way. We hope these stories will inspire and empower you to live your life to its fullest in Levi's. 
Want more stories like this? Sign up for our weekly Unzipped email or view more stories from our Modern Day Pioneers series.