May 26, 2015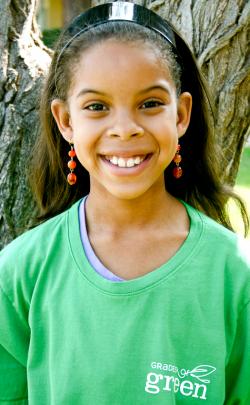 Q&A with Kirsten Chavis, Student and Pollination Project Grant Recipient
Like many of the Modern Day Pioneers we've featured here on Unzipped, Kirsten Chavis is passionate about helping others. She's also an explorer and an adventurer, an advocate for the environment, and helps make a difference in her community by cleaning up neighborhood parks and volunteering at local clothing and food drives.
Oh, and she's ten-years-old.
While this fourth-grader from Los Angeles is most-definitely our youngest Modern Day Pioneer to date, the impact she's making is big. Kirsten was recently awarded one of the youth environment grants offered as part of a partnership between The Pollination Project and Levi Strauss & Co., which she used to help support her third-annual Earth Day event (more on that in a bit).
We had the opportunity to hear more about her project, the inspiration behind it and why she's on a mission to help the environment.
Tell me a little about yourself.
My name is Kirsten Chavis and I'm kind, loyal, and a hard worker, a great friend and love to help others. My mom created a nonprofit to help others and I work with her, my grandma, dad, and uncle running events like our clothing and shoe drive, and food drive. I'm also on the Youth Board and on the Youth Corp of another nonprofit, Grades of Green. I spend some of my free time doing community outreach like park cleanups, reading, making jewelry, playing out doors and watching television, but other times I like to draw or sing. Most of all I like working with my grandmother at home and doing things in the community to help others.
Describe the project that you submitted to The Pollination Project for a grant.
It was My GO GREEN 3rd Annual Earth Day event, planned with my school's Youth Earth Club and Foster & Banks Walk in Faith Foundation, which is my family's nonprofit organization. About 1,000 kids and a few hundred adults participated in this event. Businesses like the LA Department of Water and Power came out to teach kids and parents about saving water and energy. Firemen came out to teach about safety and environmental care to prevent fires. We gave out one hundred water and energy saving kits to the kids, over 1,000 stuffed animals and over 1,000 books. We also collected over 1,100 pounds of gently used clothing and shoes for families in need. We had environmental games and prizes, gift giveaways, face painting, an art room where kids made reusable art, and lots of other fun for families. We also organized the kids to pick up trash from the school yard.
How did you get the idea for the project?
In 2012, I started a Youth Earth Club with my school Lou Dantzler and the school we share our campus with, Budlong Elementary School. We wanted to raise more environment awareness and teach kids and parents how to GO GREEN so we decided to plan an annual event every Earth Day. We thought that more people should be more aware of the environmental concerns and what they could do to help out and we wanted to tech environmental concepts in fun ways.
What's been your biggest challenge so far?
Getting parents of the students and community members involved with the environment friendly activities and clean up projects. The kids enjoy learning about how to help the Earth, we just need their parents to continue to keep them excited about it at home and in their neighborhoods. We get a lot of support from the students and principals, but it has been so hard getting the teachers and parents involved in things like a school garden, or our e-waste recycling program. Without the Pollination Project, each year we had to run many fundraisers to help pay for the Earth Club, supplies, games, tools, cleaning items, and the Earth Day Event. We need more adults to know about we do to support us with making a bigger impact in the community.
How will you know when you've been successful?
When I reach the goals that I set for myself and the goals the Earth Club sets. When parents and teachers support the recycling programs we have created and help with our activities we will know we have been successful. We will know by the school yard staying clean or having more kids pick up more trash everyday. We will know we have been successful when we see more kids and parents reducing their waste on campus. We know the event was a success because we collected so many clothes and shoes for people in need, gave away books to kids who didn't have books, and raised money for the Earth Club.
What does receiving the Pollination Project grant mean to you?
Receiving the Pollination Project grant means that someone else believes in my dreams and that I can succeed with my goals. It makes me feel that I have the right stuff to do things that not everyone can do. This honor means that not only can a nine year old get a grant but that if you put your mind to something and try hard to achieve it, then you can do it!
What are your career aspirations?
Being a singer, an artist, and a teacher. I also love to write and will write children's books to encourage them to dream big!
What are you most proud of?
Kids in my school now know ways to protect and help the planet and that I was actually able to do something that people will look at and say, "Maybe I'll try that."
What legacy do you hope to leave on the world?
I lived to help others and that my life left a change or a large impact on the world, which people will remember. I hope to show others that even if someone tells you no, you can't do something great, just try and do it anyway!
Why is it important for young people to take an active role in environmental sustainability?
We, the children are the future and whatever we do affects the future of humanity, and our planet. It is better to have an active role in environmental sustainability so the world will become more balanced, healthy and kind.
What advice would you give to other young people that want to make a difference?
Never stop trying, never give up, and if plan A doesn't work, there is always plan B.
This story is part of an ongoing series designed to feature people who are changing the world in their Levi's®. Our Modern Day Pioneers are impacting everything from culture to social issues to the environment, and they're challenging the status quo in a unique way. We hope these stories will inspire and empower you to live your life to its fullest in Levi's. Have someone we should consider? Email us! Follow the Modern Day Pioneers series here.