May 22, 2015
For more than 35 years, the National Committee for Responsive Philanthropy (NCRP) has promoted philanthropy that serves the public good, is responsive to people and communities with the least wealth and opportunity and is held accountable to the highest standards of integrity and openness.
Two years ago, the organization honored the Levi Strauss Foundation with the inaugural NCRP Impact Award in the corporate foundation category. In presenting the award Aaron Dorfman, Executive Director or NCRP noted, "with a values-driven approach — courage, empathy, originality and integrity — the Levi Strauss Foundation devotes all of its grant dollars to benefit marginalized communities, more than any other corporate grantmaker."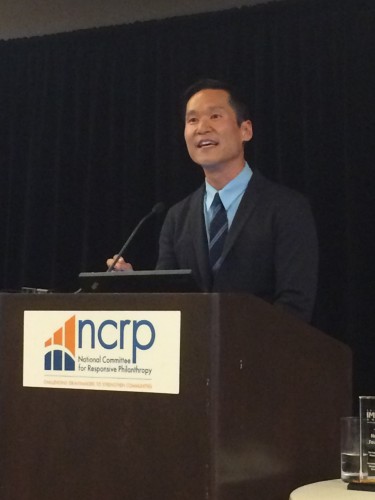 Last year, Daniel Lee, Executive Director of the Levi Strauss Foundation and newly elected NCRP Board member, had the honor presenting the 2014 corporate impact award winner to the Ben & Jerry's Foundation. This year, Daniel presented all five NCRP awards in a ceremony earlier this week in San Francisco that was buzzing with nonprofit and foundation leaders committed to working for the greater good through social justice. Daniel kicked off the ceremony with a few remarks:
"NCRP plays a critical, indispensable role both as a watchdog to the sector (and in doing so, isn't afraid to rabble-rouse or ruffle feathers) and a conveyer of robust and much-needed 'outside-in' thinking to inform foundation effectiveness. At the Levi Strauss Foundation, we use NCRP's 'Guidelines for Philanthropy at Its Best' as an annual plumb-line in our efforts to adopt those practices that are proven to advance justice and opportunity."
He then presented an award to each of the following honorees and their organizations:
Aaron Dorfman summed up this year's class of award winners in sharing with those in attendance "the winners of the 2015 NCRP Impact Awards are some of the smartest, most strategic grantmakers in the nation."
>> Follow @LeviStraussFdn on Twitter to learn more about how the Levi Strauss Foundation drives pioneering social change by funding community programs that advance justice and provide opportunities for disadvantaged people around the globe.