April 10, 2015
Whether it's Olympic gymnastics, credit scores or the SATs, a perfect score can be hard to achieve. But when it comes to LGBT equality, we've hit the mark. For the twelfth consecutive year, Levi Strauss & Co. has earned a top score of 100 percent on the Human Rights Campaign Foundation's 2015 Corporate Equality Index (CEI) and the distinction of "Best Places to Work for LGBT Equality."
Last week, we were honored to attend the CEI 100% Awards Celebration recognizing businesses that have excelled in LGBT inclusion in the workplace in the past year.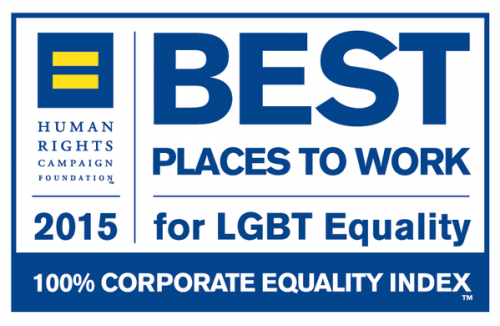 LS&Co. employees Lance Relicke and Bettina Sapien attended the awards seminar and reception on behalf of the company. At the beginning of the reception, the company was praised for speaking out against legalized discrimination. Lance and Bettina said this recognition made them particularly honored to be representing LS&Co. at this year's event.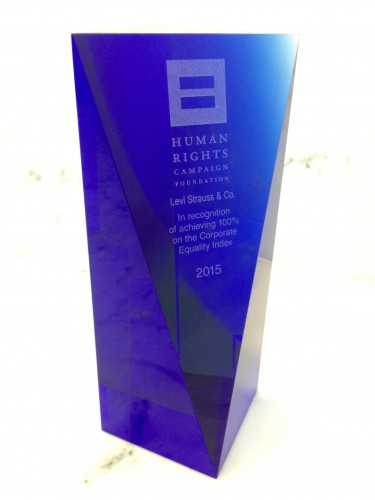 "We were sitting in a room with all these heavy-hitting titans of industry and to be singled out really showed the power of the Levi's brand," said Bettina. "I'm always proud to work for such a pioneering company, but it was doubly rewarding to be recognized on this important issue."
Programming at the event included moving speeches on transgender inclusion in the workplace and a dialog between CNN's Chris Cuomo and HRC president Chad Griffin on the importance of speaking out against anti-equality legislation. The two discussed how these bills are bad for the states they are located in and ultimately bad for business.
Speakers also discussed the difference between advocacy and allies and the importance of promoting both in the workplace.
"Corporations must advocate for LGBT equality, but that it's also critical for individual employees to become not only advocates but allies — this can be achieved through support and action at any level," said Lance.
For Bettina and Lance, the overall message of the evening was clear: Diversity and inclusion is a strength for business, not a weakness. And beyond that, it's simply the right thing to do.
"It's part of our company's DNA to be pioneering," said Bettina. "From the days of Bob Haas handing out safe sex education pamphlets in our lobby, we have a long history of being a leading voice for equality. This event felt like a true culmination of that history. It was a very heartfelt experience and I was incredibly proud to be there to represent the company."
Featured image credit: torbakhopper via Flickr CC