April 6, 2015
In Sunderland, Northeast England, Steve Burns had a dream: to become an American football player. Talented though he was, when it became clear that a professional sporting career might not be in the cards, he decided to merge his love for sport with his love for clothing. Lucky for Levi Strauss & Co.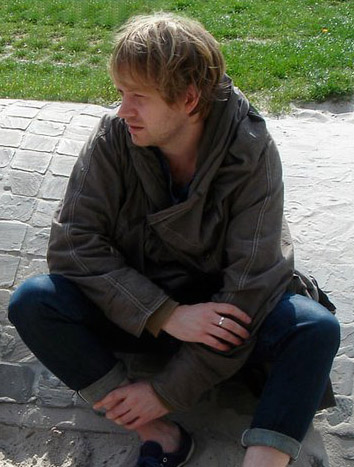 Burns' career path started with activewear design and has since included everything from working with a Savile Row tailor to heading up emerging denim lines that combined blue jeans styling with old-school tailoring techniques. His desire to work with a large team and make big impacts in the industry eventually brought him to LS&Co., where he serves today as Director of Levi's® Men's Bottoms, overseeing the entire men's bottoms team and helping them create and execute their vision. Recently, the denim guru filled us in on what's next on the blue jean horizon, where he finds inspiration, and his favorite pair of Levi's.
Tell us about your journey at LS&Co. thus far.
I originally got the job at Levi's working as a denim designer. I was based in Brussels, but I worked on a lot of global projects and capsule collections. When I made the move to San Francisco, I wanted to join the concept team to put together ideas for each season, like new wash stories and ways to work on innovation and sustainability.
At the time, we were the first brand to be turning post-consumer waste into denim fabric. We had a lot of thoughts on how we could make sure the best ideas actually make it to the floor and better tell the sustainability story.
Why do you feel so passionate about denim?
You have someone's personal life imprinted on the garment. No fabric in the world does that aside from denim. Going into the archives is great. The wearer's job determined how the cloth wore down. It's so interesting what you can find out about people's lives just by how they wore their blue jeans.
What is the first pair of jeans that you remember loving?
When I was a kid, I saved up money to buy a pair of Levi's® 501® jeans. I wore them constantly and never took them off. Then one day my mam washed them, and they shrunk. Suddenly, they were very cropped and super skinny—very much on trend now—but not back then. I couldn't squeeze into them. I was heartbroken. I felt like I lost my best friend.
How does your background affect your work?
I worked in many areas of design, from high-end couture to more edgy street wear. But that idea of accessibility in clothing was very strong where I was from. I have always wanted to make clothes that everybody can wear and that really speak to today's consumer needs. And if you look at Levi's, they clothe the world, don't they?
They do. Do you have a personal favorite pair of jeans?
I have the 501® CTs in a clean rinse. I wear the 606s from Orange Tab as well. I like raw denim. I wear jeans hard and then get new ones when they fall apart. I like pairing clean and modern styles with vintage tops. It's good to mix it up.
Where do you find inspiration as a designer?
It's everywhere. It could be a piece from the archives or someone I saw walking down the street. It's very important for designers to be aware of everything that's going on around us. What people are obsessed with in the minute determines what they're going to want from their clothes. Right now, that's a kind of casual performance wear.
Yeah, what would you say the biggest trend is right now?
If we look at why people are into sportswear and casualwear, it's all about wearing things that they feel comfortable in and can wear everyday. That influences us.
We might make denim with a looser weave so it's more comfortable. We're not doing the sportswear trend per se, but we're still addressing what people are looking for in their clothes.
What do you think the next big thing is?
I feel like things will start to smarten up in reaction to today's more casual sporty look in the form of clean and modern denim wear. It's always kind of reactionary in fashion. There were hippies, then punks, then new romantics. I guess it's always the youth doing something, and then the new youth comes in and says, 'No, I'm not doing this—I'm doing totally the opposite.' That's what keeps things in fashion quite original.
What is your favorite thing about working for LS&Co.?
The power that Levi's has to change the industry. We're constantly looking to improve the product and evolve in terms of sustainability. We're fortunate enough to influence the way other brands are working too. If Levi's does something, everyone pays attention.