January 21, 2015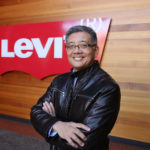 We're honored and excited to congratulate Michael Kobori, Levi Strauss & Co.'s very own VP of Sustainability, for being named one of Fast Company's Most Creative People in Business 1000. Michael was selected for the groundbreaking work he and his team have done to build sustainability into the fabric of Levi Strauss & Co. In his nearly 20 years at the company, Michael has helped make sustainable design a reality through innovative, resource-saving collections such as Levi's Water<Less, Waste<Less and Dockers Wellthread. Michael also helped coordinate LS&Co.'s partnership with the International Finance Corporation (IFC) announced in November, which provides low cost trade financing for vendors who perform well on LS&Co.'s sustainability standards.
The Most Creative People in Business 1000 is not only a huge honor, it's also a new resource to learn from an influential, diverse group of modern Renaissance men and women across the economy and around the globe. Fast Company adds a new class of honorees each year with their annual 1000 Most Creative People of the Year and we're thrilled that Michael has been recognized for all the work he's done to make denim and the apparel industry more sustainable this past year. Michael is in excellent company with people like Yvon Chouinard – Founder, Patagonia; Mickey Drexler- CEO, JCrew; Maria Eitel – CEO, Nike Foundation; and Elon Musk – CEO Tesla among many others (including his own grilling guru, Bobby Flay).
Want to keep up throughout the year with Michael and the other creative leaders who made the list? Just watch this space for the latest on their respective companies or projects and see here for the full list of creatives.
To follow Fast Company's Most Creative People in Business 1000 check out #MCP1000 on social media and follow @LeviStraussCo and @KoboriGrillsCSR for more from LS&Co.