September 4, 2014
Eighty years ago this month, Levi Strauss & Co. forever changed women's fashion with the introduction of Lady Levi's® jeans — the world's first jeans made exclusively for women. To celebrate, we'll be sharing Levi's women's fashions from our archives throughout the month. LS&Co. Historian Tracey Panek kicks off the festivities by sharing her perspective on this historic milestone.
Wearing Levi's® jeans when I visited J Bar M Ranch in Ruby Valley, Nevada last month felt natural—practically a given. Historically? Women and jeans did not mix. At the same time they were fighting for the right to vote, women spunky enough to don denim were ridiculed. Ladies who needed the practical functionality of jeans wore their husbands' or brothers Levis® 501® jeans, the original blue jeans invented by Levi Strauss & Co. in 1873.
What changed? Levi Strauss & Co. took a risk forever altering the course of women's fashion. Eighty years ago, in the fall of 1934, the company introduced the world's first jeans made exclusively for women — Lady Levi's jeans.  First developed for western women wearing Levi's jeans on farms and ranches, the new line was also aimed at women vacationing at dude ranches, working cattle or horse ranches that welcomed guests flocking from eastern states or even Europe. By 1935 a dude ranching article appeared in Vogue featuring the new Lady Levi's line. Thanks to Lady Levi's sales at select stores in New York for "dudines" trekking west (as well as clothiers near dude ranches), jeans became fashionable for ladies in the East.
Although jeans for gals were brand new in 1934, LS&Co. had been offering women's clothing as early as 1918. That year the company created "Freedom-Alls,"a one-piece garment whose name evoked the emotions of World War I. By the 1920s, LS&Co. was producing women's hiking togs and jackets in khaki.
Creating women's jeans a decade later proved progressive. The liberating Lady Levi's line caught on quickly in the West, the same place where women were first enfranchised. Fifty years before women won the right to vote nationally in 1920 — western American woman already enjoyed the privilege. Wyoming led the nation, giving women the vote in 1869. Utah, then a territory, followed one year later.  
My husband's grandmother, now 101, illustrates how independent-minded western women embraced Lady Levi's jeans, also called Lot 701, as freely as other advances. Jerry Scott has spent most of her life on farms in Utah and bought her first horse at 18, three years after she learned to drive a Model T. "I wore Levi's for ladies once they came out," she remembers, "They lasted forever." Grandma wore them horseback riding and still remembers their distinctive two-horse patch.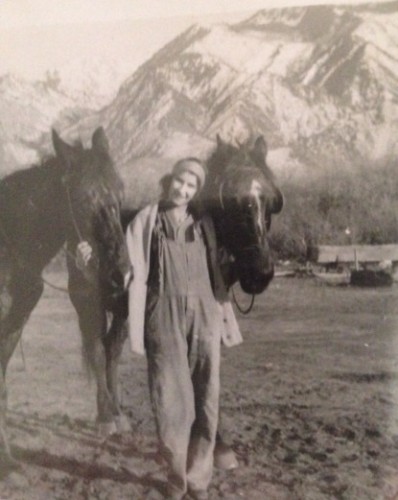 Location played a role in when Lady Levi's jeans were adopted early on according to University of California at Davis Instructor Nan Turner. "I have interviewed women from across the world," said Turner, who is writing a book on women's clothing in World War II and shared her insights when we spoke recently. "One woman who grew up on a farm in Kansas said that she wore jeans before World War II working on the farm and that they were women's jeans." Turner described another woman studying at the Cleveland Institute of Art who said that all the female students wore men's jeans to class because women's jeans were unavailable.
More than just creating a feminine-fitting functional garment in denim, Lady Levi's jeans may simply have given women a rare option at the time — pants. "With few exceptions," says Turner, "the women that I have interviewed simply didn't wear pants through World War II."
Fortunately, women from California to Maine could purchase Lady Levi's jeans by the 1950s when LS&Co. began selling the line throughout the United States. "Many women didn't like the button fly," Turner noted in our conversation. The company corrected this common complaint by switching from button-fly to zipper at the same time.
The sense of fashion freedom that Lady Levi's jeans inspired 80 years ago continues with today's latest women's denim fits and finishes that are now available across the globe.