August 7, 2014
A Levi's® employee turned rancher lives his life in denim.
Nevada cattle rancher Mark Sampson has worn Levi's® jeans all his life.
Growing up as the youngest of four brothers in Ogden, Utah, he had plenty of Levi's hand-me-downs. "If my mom did buy me new jeans, she would always buy them a size bigger than what I wore," says Mark about his boyhood. "She figured they would last and I would grow into them."
Then, straight out of college, he took a budgeting job at a Levi's plant in Amarillo, Texas. "The first thing I did was watch how a pair of jeans was made from start to finish," he recalls.
Today, after 25 years as an LS&Co. employee and 15 years as a rancher, he's got quite the collection.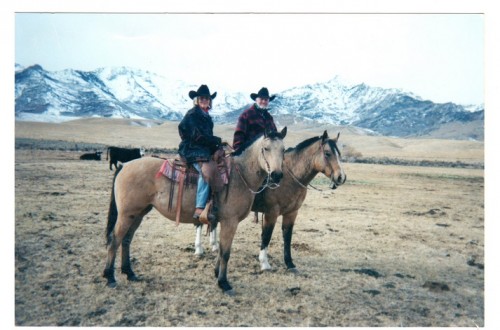 When I met him at J Bar M Ranch — named for Mark and his wife, Jeanne — he was in 501® jeans, his choice of denim for the hard work of ranching. "There's always something to do," Mark said. The year begins with cattle feeding in January when heavy snow falls. March and April bring calving followed by branding. Summer activities include irrigation, fencing and haying. My visit coincided with a short cattle drive to move cows on Mark's 1,800-acre ranch. His son Logan, who helps on the ranch and works as a volunteer firefighter, greeted us at the barn. While I put my Levi's Demi Curve jeans to work pulling myself into a saddle, Poncho the dog corralled the remaining horses.
J Bar M Ranch is located in Ruby Valley, about 60 miles outside of Elko, Nevada. Elko is famous for its Cowboy Poetry Gathering — an event LS&Co. sponsored for years — and for Capriola's Saddlery, where Sampson buys handcrafted saddles and checks out the Levi's 501® jeans that line the shelves. (It's also where ranch owner Bing Crosby was given a custom Levi's denim tuxedo jacket during the Silver State Stampede in 1951).
Ranching is a multigenerational family affair for the Sampsons. Jeanne's family, the Neffs, helped settle Ruby Valley in the 1930s, and Jeanne's brothers still operate ranches as well as Neff Mill and Neff Equipment in the valley. Most of the Sampsons' five children and 25 grandchildren gather every Fourth of July for a family reunion. Barbecue and blue jeans mark the festivities. "This year we had over 100 people," boasted Jeanne.
Luckily there is plenty of space in the Sampsons' two-story log home — and not just for family. Mark had his closet specially designed for his boots and jeans collection. He reserves Dockers® khakis for church on Sundays, but otherwise Mark chooses a specific pair of Levi's jeans based on the day's activities:
Over the years I have collected a number of different jeans, all Levi's… 501s, 505s, 517s, 550s. … If I am out on a horse I generally wear 501s. I always wear long 501s that fit over my boots because when you're riding a horse your jeans tend to come up a bit. … The pants get a lot of wear. I'm on and off the horse all the time fixing fences or something. … This is a pair that was probably made about 1990. These are the vintage, original finish with the original selvage made from the narrow looms at Valencia Street [in San Francisco]. … These are the last new pair of vintage that I have left. I save these vintage for dress-up occasions — when I go to town for special events. … Here's a pair that are faded a little bit and these would be the ones I [wear when I] go buy bulls up in Montana for the ranch. When I go up there — sitting in the stands, bidding on bulls, I always wear my vintage 501s. I always wear Levi's and that's what I'm comfortable with.
Mark's ranching life contrasts sharply with his years as a LS&Co. employee. Mark worked his way up in the company, becoming director of operations support, working on overseas sourcing. "A handshake was the contract," he said, recalling a deal he negotiated with Japanese denim suppliers. He also lived and worked for a time in Australia, traveling widely through Asia.
This international experience served him well when it came to helping flesh out a set of operational guidelines to ensure ethical and environmentally sound business practices wherever LS&Co. operated. "I felt strongly that, as a company, we shouldn't cut corners — that we should have a standard," Mark said. Today, these Terms of Engagement have become a benchmark practice in the garment industry.
With an impressive LS&Co. career behind him and acres of ranch work ahead, Mark Sampson remains a humble, hardworking, down-to-earth guy. The one exception? He's bull-headed about his jeans. He summed it up this way: "I always give people a hard time if they don't wear Levi's. I congratulate them if they do."
Watch this video to hear more about Mark's role in creating our Terms of Engagement: