July 16, 2014
Williamsburg, Brooklyn. A New York borough hotspot that has grown in popularity over the last few years, well-known for antique shopping, hip coffee shops, local music, hot bars and of course bike-riding commuters. This month, Levi's® is giving those commuters a reason to stop along their bike route to gather, exchange ideas and swap cycling stories at the Levi's® Commuter Workspace.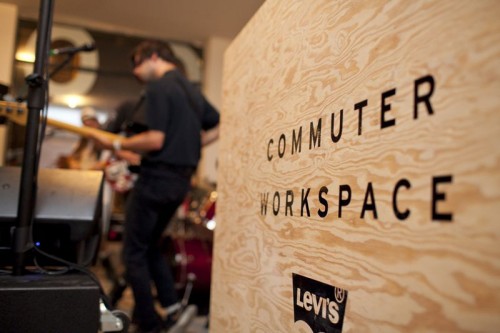 For the past three years, Levi's® has partnered with bike advocates around the world to encourage cycling through their Commuter Series, touring key cities to spread the word  and offer free bike tuning, on-site tailoring and live events. The Brooklyn Commuter Workspace and the soon-to-be launched Workspaces in London and Los Angeles give the program a more permanent home to showcase the innovative collection designed for those who opt for an environmentally-friendly alternative to the typical commute.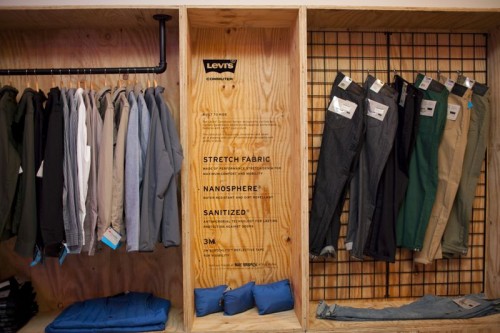 The Brooklyn space opened with a launch party on July 8th; installations within the space will continue for the entire month and include products designed to equip the modern commuter such as Brooks England custom bike saddles using recycled Levi's® denim. Additionally, artists from each location will design special lapel pins to commemorate the series.
What else? Well, there's the free—yep, you heard that right, free—bike tune-ups. And Levi's® donated denim from mills in North Carolina for a month's worth of complimentary tailoring jobs, with skilled sewers ready to take on any avid cyclist's wardrobe wear and tear. Throughout the month, workshops and group activities such as "Bike Maintenance 101" and group rides will also be held in collaboration with local cycling organizations Bike New York and Ride Brooklyn.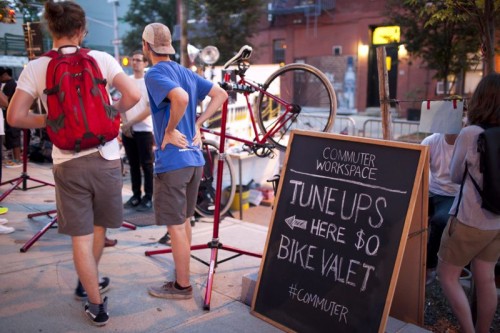 And if you're not a commuter yet, stop by the space and you just might become one. Tokyobike, a small shop started in Japan, will offer loaner bikes for trial rides. Their co-founder, Dean Di Simone, said he is thrilled to join forces with Levi's®. "Tokyobike focuses on providing bicycles that allow riders to enjoy their journey and city just as much as their destination," said Di Simone. "Through the programming and support of the Levi's Commuter Workspace, we have seen cyclists unite in this spirit, and we are thrilled to be part of it."
Need a bit more inspiration to hop on your bike and go for a ride? Check out the first of Levi's® video series, "The Ride," featuring commuter and designer, Kyle Garner, of Sit and Read furniture.
Watch this space (and the Commuter Workspaces!) for more updates over the summer!