June 30, 2014
How do you go from competitive gymnast to Chief Marketing Officer of Levi's®? Just ask Jennifer (Jen) Sey, Levi's® Global Chief Marketing Officer, who has one of the most interesting professional profiles here at LS&Co. Jen has written a memoir about her experience as an internationally competitive gymnast, in addition to working in retail and advertising before landing at LS&Co.
And while Jen's path might be extraordinary, her work at LS&Co. has been no less dynamic and diverse. She's had her hand in marketing, strategy and ecommerce at the company before settling into her role as CMO, where she helps develop the brand's point of view and creates memorable marketing campaigns.
Jen has arguably one of the coolest jobs in the company—she gets to live and breathe the world of Levi's® on a daily basis – including launching one of the brand's biggest marketing campaigns in recent history – Live in Levi's®. We caught a rare free moment with the executive to ask Jen about her role, Live in Levi's®, what the present and future of marketing at Levi's® looks like, and what she loves best about her job: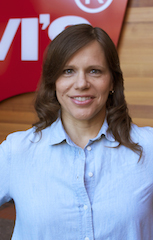 UNZIPPED: As CMO of Levi's®, what does your job entail?
JENNIFER SEY: I lead the team that defines the brand's point of view in the market, ensuring a compelling and differentiated proposition for the consumer. And I also lead the development of the marketing plans and programs that are developed off of that. The goal is to create consumer demand for our products.
How does your team come up with Levi's® campaigns?
It's a combination of things. We get inspired by consumers, by what they love about our brand. We engaged consumers around the world to help us understand what they love, what they don't, and what would make them want to buy and wear our products. Then we work with agency partners and our internal Creative Services team to create the work. It is multi-dimensional, multi-platform work including everything from TV spots to social campaigns on Facebook and Instagram to windows in stores.
What does your creative process look like and where do you turn for inspiration in your work?
I get inspired by our consumers, by the incredibly creative people that work here. And I often find inspiration and ideas in unexpected places…I am a consumer of culture…everything. TV (it's the golden age AGAIN, have you heard?), movies – old and new, books (novels, memoirs – but I don't read marketing or business books) and the newspaper. I think when you learn and collect information broadly, you continue to be inspired.
Tell us a little bit about the Live in Levi's® campaign – how did it come about?
We're launching globally in August and September, but announced the campaign today. It's intended to be both inclusive and inspiring. We are of a rare class of brands that can do both of those things. Often we think of more narrow, niche brands as the ones that inspire and engage. And we think of broad, commercial brands as diffused and kind of boring. But the world's best and most loved brands –Apple, Nike, Disney, Starbucks – are welcoming to many, and inspiring for all. And I think Live In Levi's® gives us the opportunity to welcome a broad range of consumers and inspire them all.
It says that Levi's® is for everybody who's not just anybody.
What do you love best about Live in Levi's®? 
I love that it is joyful. It's a celebration. It's not cynical. Or dour. Or overly serious – as many fashion and style-oriented brands can be. It's fun. People have fun in jeans. It should be fun.
How does your experience in ecommerce at LS&Co. inform your present work?
It helped me to see the value of interacting with product – trying on, purchasing, reviewing, spreading the word – as the most compelling brand experience. And that our jobs as marketers aren't just about "advertising," rather the primary goal is to connect people with their next favorite item of clothing. And through that experience, we need to engage them to be ambassadors for our brand.
It also, of course, immersed me in digital – and the development of the Live in Levi's® campaign really puts digital at the forefront with the Live in Levi's® Project –an online experience that facilities storytelling about living life in Levi's®. We believe there are more than a billion stories to be told… and we'll start this fall to collect them from around the world.
What is your LS&Co. story? When did you first learn about the brand and what was your first connection to Levi's®?
My first memory of Levi's® is around 1984 when Levi's® clothed the American Olympic athletes at the L.A. games. I was a gymnast as a girl and knew many of the gymnasts that competed in those games. The clothes and sweats they wore for the opening ceremony and the Games were provided by Levi's® and these were very covetable items for many years to come. In 1985 I went to Moscow to compete in the first Goodwill Games and we were told to bring Levi's® to trade with the athletes. I traded a pair of 501® jeans for the leotard of a world famous Russian gymnast. And then, when I was newly graduated from college, I had the opportunity to work at FCB – the advertising agency that did the 501® Blues campaign (the one that ran during those same 1984 Olympics) and I jumped at the chance! I ended up working on the Levi's® business there for several years and knew at some point, I wanted to work at Levi's®. I've now been here for 15 years.
What advice do you have for anyone looking to follow in your footsteps? 
Make sure you have fun in the work you do. Like the people, make sure the culture is consistent with your personal values. Like it because you like making stuff that connects with people. Not because you want to achieve a certain title, or because you want to go to photo shoots. If you don't actually fundamentally like the work you do every day, showing up will become a real chore. And that's no way to live!