June 4, 2014
Sometimes, the greatest achievements have the most humble beginnings.
We asked Tom Diettrich, owner of Marin County denim shop Jeans-To-A-T, whether his daily labor of love—that is, helping customers achieve their perfect denim fit—was his mission when he first opened. "No!" He replied emphatically. "I had absolutely no idea what I was doing." But he opened his doors in 1977 and has been selling Levi's® and other denim brands ever since.
It was Tom's sister who originally suggested that he sell jeans. Tom had previously worked as a PE teacher. Although this might seem like a major career change, the same energy and motivational skills required to inspire kids in gym class serve Tom well as he coaches customers through the process of finding that perfect fit.
Today, Tom knows denim brands and fit nuances inside out, and uses decades of gleaned knowledge to quickly assess what customers are looking for, holding their hand throughout the denim-buying process. It's easy to see why customers consider Tom to be a "jean-ius," traveling from far and wide to visit his iconic shop.
Tom said the first thing he does when customers arrive is quickly assess their body type. "People come in and say 'I like what you got on.' And I say, 'No ya don't, because this is my body!' I have big legs and there is no way I can get into certain pants. But I can tell what style people might like if they like how mine fit." (For the record, Tom categorizes himself to be a Levi's® 559® guy, needing the relaxed straight to accommodate those "big legs" of his).
Tom doesn't measure customers, but holds styles up to their body to see how they compare. "You can just tell," he said. Sometimes it takes him two or three tries to find the client's perfect pair, although he admits to having the occasional challenging customer.
"You gotta know the inventory you've got," he said. And you have to have a lot of it. Tom said he keeps every fit in stock, from loose to regular to slim to super slim. "I've got everything in here!"
And, here's the kicker: If Jeans-To-A-T doesn't have the right fit in stock, Tom's on-the-spot alterations could be the difference between leaving with your dream jeans and departing empty-handed. Alterations might include anything from a simple hemming to taking in the waist (a common practice for women over 6-foot-four, who require the 38 inch inseam length of a men's jean).
Tom first began altering when a customer came in who had one leg that was one inch shorter than the other. Tom's roommate had offered to help with alterations, and because Tom was willing to do this service, the customer purchased four pairs of jeans.
A few days later, a woman came in who loved a pair of white pants—but they were too long. Just as she was going to walk out the door, Tom asked, "Well, what if I hemmed them for you?" He made the sale, again enlisting his seamstress roommate for help.
Soon, Tom was bringing home 10 or more pairs a week for alteration. When his roommate moved out, Tom sat down and taught himself how to do the work. Initially, it took him about 45 minutes to hem one pair of pants. Eventually, he got a machine for the store to do alterations on the spot. The prompt customer service that would garner Jeans-To-A-T's devout following was initially an afterthought. "It was like homework to bring the stuff home," he said.
When asked what advice he would give to customers looking to find the perfect pair, Tom said this: "Know how you like it and tell me, and I will give you exactly what you want at the start." Often, customers have brought in ripped jeans, or discontinued pairs, knowing that Tom will find—or create—a style with an equivalent fit.
While Tom may not have known initially the path his business would take and the great "denim whisperer" he would become, today he says that his greatest joy is helping customers leave with a fit that they love. "That's why I am still here," he said. Over 35 years of living the dream, one great-fitting pair of jeans at a time.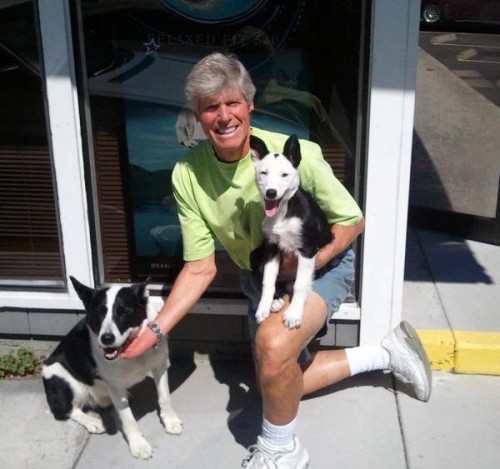 **Featured image of Jeans-To-A-T via Yelp