February 20, 2014
In a few short months, Colin MacGregor will graduate from Brown University with a degree in economics. Oh, and he'll also graduate from the Rhode Island School of Design (RISD) with a degree in apparel design.
Colin's that kind of student — the kind that talked his way into a non-existent five-week winter internship at Levi Strauss & Co. so he could immerse himself in every aspect of making blue jeans, including one you might not immediately think of: sustainability.
A year ago, Colin didn't know there was five weeks' worth of learning behind how to make blue jeans. He didn't know that, between pattern-making and sewing and dry processing and wet processing and silk-screening and lasering, there are a million different ways to make a pair of blue jeans. But he knows now.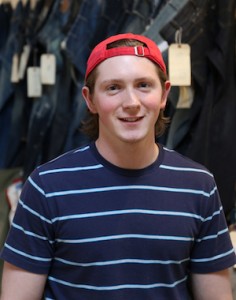 Colin spent each week of his internship learning a different aspect of denim design. It makes sense that he'd come to Levi Strauss & Co. to figure it all out. After all, Levi Strauss invented the blue jean more than 140 years ago.
"Denim wasn't even on my radar a year ago," said Colin. "I had no experience with it in school until a course this past fall, taught partly by Levi Strauss employees."
Colin says he was particularly impressed by LS&Co.'s efforts in sustainable design.
"As resources become more and more scarce, fashion houses will be forced to move toward more sustainable design and production," Colin said. "And it's great that Levi's® has been showing its commitment in this area for a long time."
Levi Strauss & Co. established a relationship with RISD a couple of years ago. The idea was to work with the school to focus not only on denim, but also on sustainable practices in design. The two have already partnered on two design courses, with company employees doing the teaching.
The fact that neither RISD nor LS&Co. is located in the fashion mecca of New York makes the two a good fit, pun intended.
"In fashion, you make a choice not to go to New York to be a little more removed from the fashion industry," Colin said. "In doing so, you're less influenced by all the other designers and draw from your own creativity. The Levi's® and Dockers® designers I've met in this internship seem to take this approach."
As for his San Francisco experience, Colin worked with designers, of course, but also, pattern makers, merchants, finishing technicians and the many others who bring Levi's® and Dockers® products to life.
Did anything surprise him?
"I was amazed at how much work goes into every pair of jeans — all of the individual craftsmanship to create a certain look or feel," he said. "It's not machines, but real people, scraping and sponging. There's just so much done by hand."
After recently completing his internship, Colin moved out of a friend's San Francisco apartment, where he was sleeping on a couch, and is back on campus in Rhode Island, diving into his final few months of college. Er, colleges.
After that?
"As I approach graduation I hope to continue to incorporate sustainability into my design career, ideally working at a company that is both innovative in its design and its production practice," he said.
He says Levi Strauss & Co. would definitely fit that category.