September 23, 2013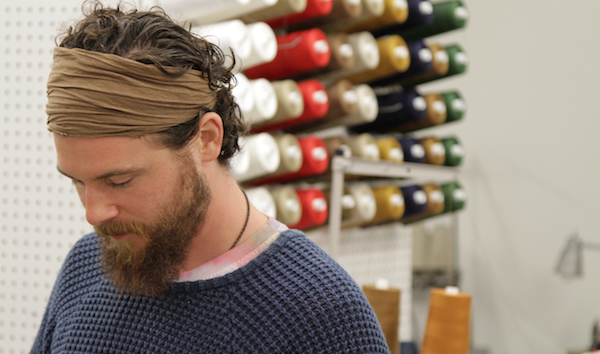 I'm not sure if schools these days still have home economics classrooms. But if they don't, we may be losing some future master tailors. Like Ryan Grant-Hays.
Ryan's hones his craft at Levi's® newest San Francisco store. He leads a team of tailors who can help you make your new Levi's® jeans more "you" through hemming or adding suspender buttons or any number of other ways. They also mend repairs.
And one other thing. Ryan can measure, cut and sew a custom pair of Levi's® jeans. They're called Lot No. 1 made-to-order jeans. And they're made just for you.
Hunched over a machine in the second-floor tailor room, the bearded Ryan wears a faded blue sweater and well-worn Levi's® jeans. His brown, curly hair is kept out of his eyes – presumably so he can see what he's doing – by a brown bandana.
When you think "master tailor," this may not be the image that comes to mind. But this is a Levi's® store in 2013, and this master tailor is working on denim jeans. Ryan is not your father's tailor.
He got his start tailoring his own clothes – in elementary school. Not satisfied with store-bought, he'd secretly borrow his mother's sewing machine and turn the clothes he had … into the clothes he wanted.
In high school, outside Portland, Maine, he'd duck into the home economics classroom when it wasn't in use, using the sewing machines to take apart and reassemble his wardrobe.
Ryan's parents caught on to his talents and eventually purchased him a sewing machine of his own.
Later came design school, then teaching, and, ultimately, a desire to make blue jeans from scratch. Fortunately – for him and Levi's® – his desire coincided with the brand's decision to start its made-to-order jeans project.
To launch the program nearly a year ago, Ryan moved from tailoring at the Levi's® store on San Francisco's Union Square to its store in New York's Meatpacking District, where he started taking orders and making jeans. He returned to the Bay Area this year to oversee the Levi's® Tailor Shop at the new Market Street store, which opened its doors just last month.
To do his work, he and his team of tailors draw on the company's amazing history – 140 years of making blue jeans – and the brand and industry's latest innovations. And he says he learns something new with each pair he makes – about four pairs a week.
Why so few? Because he puts so many hours – and his heart – into each and every one.
He describes his job as amazing and odd. Making made-to-order jeans, one at a time, for a company that sells millions of pairs of jeans every year.
Starting at $750 a pair, Lot No. 1 isn't for everyone. But if you're an aficionado who appreciates blue jeans the way some people might savor a fine bottle of wine, you have to respect Ryan's work. And it's a safe bet his jeans will last a lot longer than a bottle of wine – at least at my house.
If tailoring's a dying craft, Ryan and his Levi's® Tailor Shop colleagues are breathing life back into it, every day. If home economics classes are now a thing of the past, maybe there's room in today's schools for at least a sewing machine or two, so the Ryans of tomorrow have a place to get started.