November 1, 2023
Nearly 40 years ago, Dockers® created the modern workforce khaki and made its mark on the fashion industry as a go-to men's workwear brand. While the brand is still all in on the classic khaki and sticking with its founding principles, the Dockers® brand of today has evolved its offerings to include more variety and appeal to a broader set of shoppers in both their professional and personal lives.
To expand its predominantly male consumer base, the brand has been on a journey to build loyalty and trust with "the woman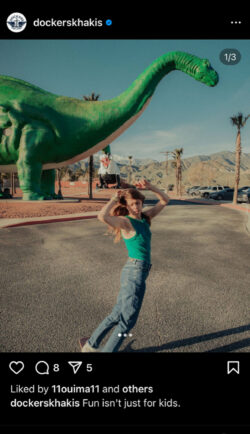 who shops at Dockers®." This isn't to say that women are new to the brand. In fact, more than a third of online shoppers in the U.S. are women, however they are mostly buying for men. These women understand the quality and fit Dockers® has to offer and are eager to try the product, making it an easier entry into the women's business. The Dockers® team has been hard at work to understand who she is, what her day entails and what she needs from her clothes.
"It's been really exciting to get to know the woman who shops at Dockers®," said the brand's CEO Natalie MacLennan. "We've been learning about what she needs from her everyday clothes and are seeing strong pull based on the brand's strengths in timeless, high quality and great fitting clothes. We know many women live busy lives, and we want our products to be as ready for anything as they are, from heading to the office or meeting a friend for coffee to going out on a dinner date."
While the brand is still in the nascent stage of growing its women's business, it's off to a strong start — Dockers® is seeing nearly 60% growth globally year to date in women's total net revenues compared to the same period last year. In the U.S., the products are now available in all Dockers® retail stores, on Dockers.com, at Amazon and most recently at Tillys and Free People. Meanwhile, the brand continues to see strong women's growth across Europe, where it's opened its first women's only shops within department stores, and in Latin America, where its women's line is gaining strength in Mexico and recently launched in the Andes region.
To drive the momentum forward, the brand has brought on a new group of women ambassadors from around the world to join its second iteration of "Live Original," a campaign designed to encourage people to embrace their originality and showcase their unique style and point of view.
Inspired by the original thinkers, ideas and institutions of San Francisco — the hometown of Dockers® — the campaign explores what it means to be an original through style and taps into the unique blend of optimism, authenticity and creativity at the core of this versatile lifestyle brand. It celebrates the idea that originality isn't about being the first to do something, it's about what you do and how you do it — just like taking the classic khaki pant and transforming it into a staple of everyday casual style.
The new ambassadors are:
Taylor Hill — A professional model and the newest Dockers® U.S. ambassador. Her work has exposed her a variety of looks and trends and has led her to cultivate a sense of style that is true to herself.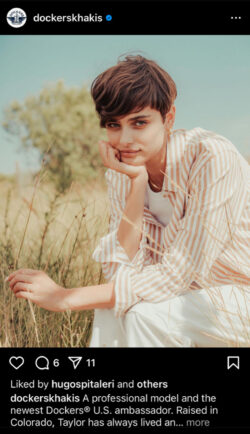 Nicole Zignago — A professional Peruvian singer/songwriter and the newest Dockers® ambassador for Latin America. Known for her honest writing and distinct melodies, Nicole describes her personal style as girly, boyish and comfortable, depending on her mood on any given day.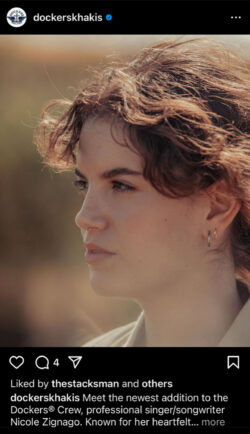 Elina Svitolina — A professional Ukrainian tennis player — and former No. 3 in singles with 17 WTA Tour singles titles — Elina is the newest Dockers® ambassador for Europe. She brings a unique sense of style both on and off the court.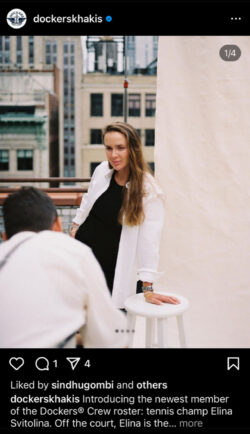 They join returning Dockers Crew® partners Jordan Poole, Maud Le Car, Matthias Dandois, Johnny Salido and Gael Monfils.
"I love that Dockers® has this focus on authenticity and originality, and it really shows in their clothes. I was so excited to work with a product I can really make my own," said Taylor Hill. "My personal style is so important to me, and Dockers® clothes really allow me to explore that."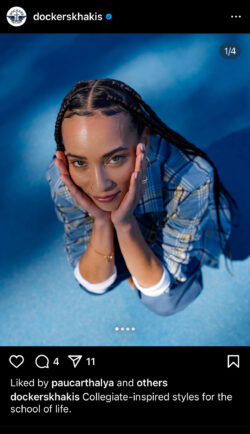 Natalie added, "As LS&Co. and the Dockers® brand continue to grow internationally, we'll continue partnering with women around the world who embody the Dockers® ethos and who do so with their own personal style."
Visit dockers.com to check out the latest product assortment and learn more.