October 29, 2023
It was 2 a.m. in San Francisco when I logged on to join "Freddie Mercury: A World of His Own," a once-in-a-lifetime auction held in London this September. The auction featured art, personal belongings, photographs and more of the iconic Queen front man. "Bohemian Rhapsody" lyrics scribbled on a notepad, Freddie's piano, the scepter, robe and crown that he wore onstage with Queen — all were up for bidding.
But I was interested in something faded and less flashy — Lot 214, a three-piece lot that included a pair of Freddie's Levi's® 501® jeans.
Dating to the late 1970s and early 1980s, the 501® jeans were listed with a leather flight jacket Freddie wore while on tour and a red T-shirt. Sotheby's described the jeans as "A pair of pale blue denim 'Levi 501' jeans with button fly, 'Levi Strauss & Co' label (very faded and distressed) to rear waistband, the right back pocket with red and pale blue 'Levi's' tab [interior care/size label indistinct]."
The leather jacket can be seen on Freddie in a photo from a soundcheck at the Budokan arena, Tokyo, in February 1981. An additional GETTY photo from Budokan shows Freddie wearing the jacket — and what looks like the Levi's® 501® jeans — sitting at the piano while he and John Deacon, also wearing Levi's® jeans, rehearsed at the Budokan.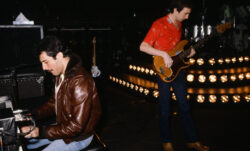 Live bidding for Lot 214 began four hours into the September 7 auction. I watched as the prior lots were sold off, ranging from Freddie's stage-worn white catsuit and ballet shoes to the Martin guitar Freddie kept at home.
Then, Lot 214 came up.
I placed my initial bid online after bids were placed in-person at Sotheby's, and the bidding war began. The back and forth continued until I posted the last bid and the hammer dropped, the auctioneer declaring my paddle, #825, the winner.
I finally saw the jeans in person three weeks later, when I arrived at the Queer Britain Museum in London to prepare for the opening of From the Levi's® Archives: Denim Icons, A Queer Perspective. I was thrilled to include the 501® jeans as a last-minute addition in the exhibit.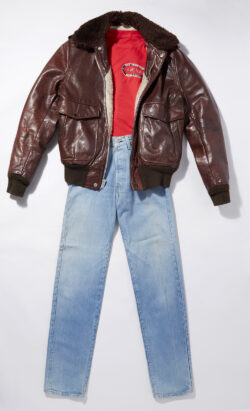 Freddie's 501® jeans were indeed faded and worn — they weren't glittery for the stage or flashy for show, but lived in, a pair comfortable enough for him to wear regularly. And they were small — so small, in fact, that we couldn't find a mannequin that the jeans would fit on.
We ended up carefully hanging the jeans in a case, with the Sotheby's tag hanging from the waistband and the Sotheby's delivery bag beneath them. Appropriately, Freddie's 501® jeans were displayed opposite a Levi's® jacket designed for and signed by his close friend, Sir Elton John.
You can see Freddie's humble 501® jeans at the Queer Britain Museum now through December 1. After that, they'll make their way home to the Levi's® Archives in San Francisco.