July 17, 2023
Barbara Hunter Kepon was a teenager when she and her friends took a weekend camping trip to the Mojave Desert in 1948. The group was exploring the area in San Bernardino County when they came across an opening to the historic Calico Mine and ventured inside. That's where Barbara stumbled on a pile of Levi's® jeans and took a pair home — a pair of 1890 Levi's® 501® jeans.
"We went into the mine as far as we could without any flashlights," said Barbara during a visit to the Archives in 2014. By the time of the visit, she was in her 80s and stopped by with her daughter, Timolin Burdick. "I felt cold air hit my foot. I got down on my hands and knees," she shared.
In the mine, Barbara found an opening to a room, where she rummaged through a pile of Levi's® jeans and selected a pair to take home. Even then, she explained, "everybody knew the name Levi's®…I went home, washed them and wore them all the time."
Barbara eventually noticed a two-horse symbol on an inside pocket bag of her newly discovered 501® jeans, featuring print about the jeans being made "for over 17 years." That's when Barbara realized she had uncovered a rare early denim gem and decided to write a letter to Levi Strauss & Co. to share her story. In the letter, now in our Archives, Barbara "asked if they wanted me to send the jeans to them, and so I did."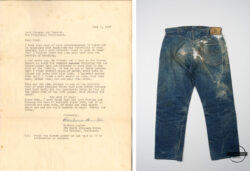 For decades, the Calico jeans have been one of the oldest and most beloved 501® jeans at the company. Now, they and Barbara's letter have a few new additions joining them in our Archives.
A New Time Capsule
 Seventy-five years after the Calico jeans' discovery and several years after her mom's passing, Timolin returned to the Archives this month to donate a handful of items to our Archives related to her mother's discovery. The newly donated materials provide provenance to this historic 501® jean, background on the Calico donation and insight into teenage Barbara.
The new items include LS&Co.'s reply letter to Barbara — typed on sepia tone Western-themed stationery — and a matching envelope with a red stamp highlighting San Francisco's "Portola Festival," the city's version of Mardi Gras held in October 1948. Both the letter and the envelope feature cowboys on horseback overlooking a Southwestern landscape. The cowboy — which LS&Co. began using as a marketing symbol in the 1930s — is a beautiful reminder of the company's consistent marketing efforts that helped contribute to the image of the American West.
Timolin also donated two handwritten letters Barbara wrote as drafts of the letter she sent to LS&Co., which revealed a few new details. In the drafts, Barbara notes that her neighbor was the person who encouraged her to write to LS&Co. She also shares some details about her family, like, "Dad always wore Levi's®." Barbara's negotiating skills are also revealed, as she asks for a pair of Levi's® jeans for her dad.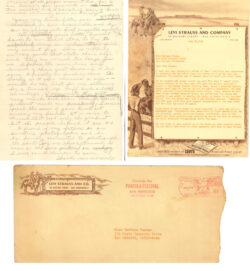 Collectively, the items serve as a time capsule of the era, capturing everything from the festival and cost of post-WWII postage to the typewritten correspondence that seems like a throwback in today's digital age.
While the donation highlights some differences between then and now, one thing remains consistent — 150 years later, the 501® remains just as popular.