June 8, 2023
As in years past, the Levi's® and Dockers® brands have released special Pride collections for 2023 that celebrate and show solidarity with LGBTQIA+ communities around the world. Both collections align with Levi Strauss & Co.'s longstanding emphasis on authentic self-expression and our company values — and they happen to look great, too.
Levi's®: How Do You Show Up?
For Pride 2023, the Levi's® brand is celebrating the LGBTQIA+ community's strength, history and creativity. Drawing from a thoughtful mix of inspirational and educational storytelling, community members and allies are encouraged to fully express themselves and help others do the same with a campaign that asks, "How do you show up?" The idea is to highlight how being able to show up as oneself — in the ways one dresses, acts, loves, creates, makes people feel — empowers people to show up for others.
The 2023 Levi's® Pride collection features a lavender-hued color palette that salutes LGBTQIA+ activist groups of the '70s and '90s, whose energy brought an explosive fearlessness to the gay rights movement. Products include a 501® '93 Straight Fit jean in light indigo, the destructed Radical Love dress, the Liberation Trucker vest and a Pride bucket hat in deep purple.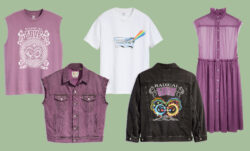 Like past Pride collections, the 2023 collection was worked on by members of the LGBTQIA+ community and is worn by a global cast of community members in our marketing, each with a distinct voice, style and point of view on what it means for self-expression to serve a greater purpose.
"It's important for LS&Co. to recognize the value of employees who are part of the LGBTQIA+ community," said a senior designer and community member who worked on the collection. "We can bring a level of authenticity to the work because we are connected to the stories being told."
As an extension of its support for the LGBTQIA+ community, the Levi's® brand is again making a $100,000 donation to OutRight Action International, a global organization working to advance human rights for LGBTQIA+ people all over the world.
Dockers®: Love, in All Its Forms
The 2023 Dockers® Pride collection features two T-shirts, a tank top, a crewneck sweatshirt and pull-on shorts in the brand's signature khaki tones. Pops of color appear across the collection via multicolored sunburst graphics inspired by the idea of letting one's light shine, as well as embroidered American Sign Language symbols for "peace" and "I love you" on select styles. Each graphic is meant to convey the peace and joy that can be found in freely expressing love and individual identity.
To model the collection, Dockers® collaborated with six LGBTQIA+ creatives who shared their perspectives on what it means to love and be loved. From cherished meet-cute moments to deeply meaningful acts of kindness, each of their love stories will be shared across Dockers® channels during Pride month.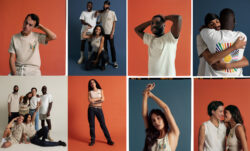 "Pride is such an inclusive expression that should be celebrated year-round, so we wanted this year's collection to reflect that," said a member of the Dockers® design team.
Alongside the collection, Dockers® is honored to continue its longstanding partnership with Stonewall Community Foundation (SCF). For the sixth year running, the company will continue to support SCF throughout 2023 on initiatives that benefit LGBTQIA+ individuals across the United States. Dockers® is also supporting Casa Frida, a Mexico City-based shelter that provides health services and accommodations to members of the LGBTQIA+ community escaping from violence and displacement.
LS&Co. has proudly shown up for the LGBTQIA+ community over the decades and will continue to do so. These collections are symbols of our support and commitment, which, like all our products, are designed to be authentic, durable and lasting.