April 10, 2023
Rolling Loud, the world's largest hip-hop festival, kicked off its first of five global music festivals in Los Angeles last month. This year, the festival welcomed renowned hip-hop artists such as Playboi Carti, Tyga, Future and 2 Chainz, as well as its first-ever global partner: the Levi's® brand.
The 501® jean, an enduring icon of global style, has long been synonymous with popular music. The Levi's® brand also has a longstanding history with the hip-hop community, with artists such as Jay-Z, Lil Wayne and Kendrick Lamar donning the famous Red Tab on stage.
While the Levi's® brand has partnered with other musical festivals in the past, such as Coachella and South by Southwest, this partnership is the first of its kind in terms of scale, providing an exciting opportunity to engage with our consumers and their passions.
This year is particularly significant as it marks not only the 150th anniversary of the iconic 501® jean but also the 50th anniversary of the hip-hop music genre.
To celebrate the dual anniversaries, the Levi's® brand will be present at festivals within the U.S., including Los Angeles and Miami, as well as internationally in Thailand, Portugal and Germany. In addition, there will be a special 501® Day celebration on May 20 — commemorating the date the patent for riveted pants was granted to Levi Strauss & Co. in 1873 — featuring club concerts in Tokyo, Paris, London and San Francisco.
"As we commemorate the 150th anniversary of Levi's® 501® jeans, we're thrilled to partner with Rolling Loud to support the artists, enhance the fan experience and reflect on hip-hop's incredible historical journey," said Mark Foxton, head of Global Partnerships and Collaborations. "No festival brings together more people to celebrate the culture of hip-hop than Rolling Loud, and no piece of fashion has been as central to hip-hop as the 501® jean. Through exclusive merchandise and unique activations, we truly want to amplify the authentic connections at these incredible festivals and shows."
The Levi's® brand put together multiple activations and events to garner excitement for the Los Angeles festival, including a local sweepstakes in four mainline stores for Red Tab members to win VIP tickets, custom content packages from influencers, a Levi's® x Rolling Loud x Born x Raised pre-party at Levi's® Haus of Strauss in Los Angeles, activations to build relationships with emerging artists and more.
"Rolling Loud Los Angeles was a perfect kickoff for our multidestination partnership," said Vlad Emilien, manager, U.S. Consumer & Engagement Marketing. "Levi's® has long been the preferred brand for musicians and festivalgoers as a way to showcase self-expression. It was exciting to see Levi's® front and center working with content creators like Chris Too Smoove and tapping local streetwear brands like Born x Raised for custom festival merch. Consumers engaged with the brand through authentic content and expressed themselves with products at the Tailor Shop, which provided exclusive Levi's® x Rolling Loud merchandise. This was only the first festival with Rolling Loud, and I am thrilled to see the reception at upcoming shows."
As the exclusive apparel partner of Rolling Loud, the Levi's® brand is offering a range of branded merchandise on-site, including limited-edition denim jackets, hoodies, shorts, tees and knits, exclusive to each festival city.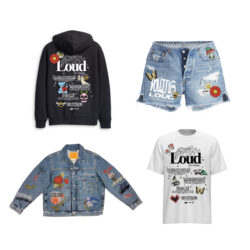 Festivalgoers can also visit the Tailor Shop, where they can customize their Levi's® products with chainstitching, embroidery, patches and heat-pressed graphics, allowing them to express themselves through both music and fashion. At Rolling Loud Los Angeles, the shop's second story featured a Red Tab Lounge, which offered a premium tier of merchandise customization with local designers Born x Raised. Red Tab members were able to access the lounge with an incredible view of the Levi's® stage.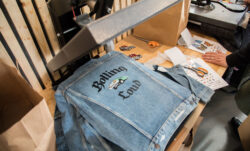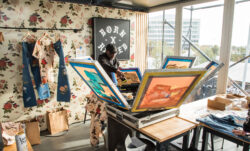 Two lucky LS&Co.  employees, Martin Deanda Zuazo and Branden Bidon, won the Rolling Loud ticket giveaway and attended the Los Angeles festival with their friends.
"I had an amazing time at Rolling Loud and got to see some of my favorite artists," said Branden, who is a retail planner. "I wanted to work for LS&Co. because it was important to me to work for a company that aligned with my interests and passion not only in fashion but in music, entertainment and partnerships. It was great to experience this overlap in person."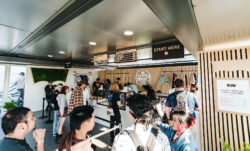 Photos from top to bottom: Ava Lamb, Edgarxl, Edgarxl, Ava Lamb