January 5, 2023
LS&Co. historian Tracey Panek takes us behind the scenes of the original Levi's® footwear. Levi's® riveted denim jeans and jackets have been around for nearly 150 years — but the brand forged a new path into casual footwear almost 50 years ago, launching a line of boots, sneakers and loafers dubbed Levi's® for Feet. The Levi's® brand recently relaunched the line, inspired by some of the originals. Here's a look back.
Four months before the original launch in 1975, LS&Co. and licensee Brown Shoe Co. market tested in two U.S. cities, Sacramento, California, and St. Louis, Missouri. In the test, Levi's® shoes sold twice as well as typical shoe lines.
With these overwhelmingly positive results, LS&Co. was ready to tap loyal fans who already donned Levi's® denim and persuade new ones to try Levi's® footwear. "Levi's for Feet are styled for a young, rugged, casual look," announced Levi Strauss & Co. in a news release on September 25, 1975. The line offered 12 styles: 11 with leather uppers and one denim-topped sneaker.
"They're Here," read a Levi's® poster featuring a mashed-up illustration of a boot crossed with belted jeans. After launching initially in Los Angeles and the San Francisco Bay Area, Levi's® for Feet expanded across the U.S. in 1976 and 1977. In stores, all 12 styles were displayed at once from a hang rod system.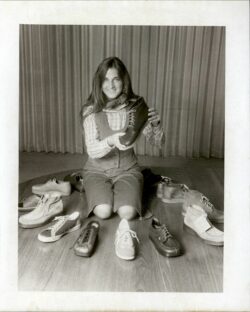 Employee Jerry Bricker, of LS&Co.'s Diversified Products, personally modeled shoes for the launch photo shoot. Radio spots, print ads in college newspapers and 25 Beetleboards (Volkswagens swathed in blue with white stitching) toured the country advertising Levi's® for Feet.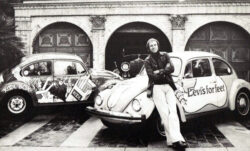 The new footwear line ranged from lace-ups and a sandal to a suede loafer. Branding details included a Levi's® Batwing and an orange Levi's® Tab. Some shoes sold with a Two Horse hangtag. A mid-ankle laced shoe with a rubber sole, nicknamed Raven, and Sneak, a denim tennis shoe, were among the original models.
Following its success in the United States, Levi's® for Feet later expanded overseas. A well-worn pair of the original denim sneakers were even discovered in a warehouse in New South Wales, Australia, by Brad Robinson in 2021. They are now part of a growing vintage shoe collection in the Levi's® Archives.