August 1, 2022
Almost 40 years ago, in 1983, Queen Elizabeth made a memorable trip to San Francisco. Her visit was marked by a glittering dinner with attendees dressed in tuxedos and gowns — not jeans. Despite the absence of Levi's® worn during the festivities, Levi Strauss & Co. employees were on hand to celebrate.
The Queen sailed to the city in luxury aboard the H.M.S. Britannia. Levi's® Plaza, the company's headquarters, had opened just one year ahead of the Queen's anticipated visit. Adjacent to the waterfront, the seven-story brick buildings feature outdoor balconies that allowed employees to take in nearly unrestricted views of the San Francisco Bay and the Queen's arrival by ship.
She arrived in  March, bringing some English weather with her. Frank Lomax, who worked at LS&Co. in the United Kingdom at the time, recalled the occasion. "I remember being there during my only visit to the head office," he said. "Storms closed many roads around the area."
But the rain did not dampen the spirits of employees and their families who were invited to attend a viewing party that started at 7:30 a.m. "As many balconies as possible will be open so that you may watch the progress of the Royal Yacht," read the employee invite, titled Hail to the Queen. Fittingly, tea and scones were served.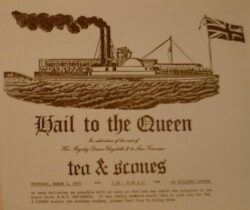 Following their voyage into the San Francisco Bay, the Queen and Prince Philip took in a few local sights. They visited Symphony Hall, received a key to the city by then-Mayor Dianne Feinstein, lunched at Stanford University and visited Hewlett Packard before returning to the St. Francis Hotel at Union Square, where they stayed in the Presidential Suite.
A special banquet was held in the Queen's honor on March 4 at the deYoung Museum in Golden Gate Park. President Ronald Reagan by her side, the Queen mingled with celebrities, politicians and businesspeople, including former Levi Strauss & Co. President Walter Haas Jr. (pictured above).
Other banquet invitees ranged from then-California Governor George Deukmejian and former baseball player Willie Mays to an entrepreneur identified by the New York Times as "Stephen Jobs, chairman of Apple Computer."
My mother grew up in New Zealand in the 1950s and still remembers when the Queen's motorcade drove through her small town when she was a girl. She learned to curtsy for the occasion.
Thirty years after driving across New Zealand, the Queen stepped aboard her yacht to visit the Pacific Coast of America, floating past curious LS&Co. employees on her way into the San Francisco Bay.
Today, almost 40 years after her San Francisco visit, Queen Elizabeth remains on the throne. Like a pair of well-worn Levi's® jeans, it's a noteworthy legacy.
Happy Platinum Jubilee, Your Majesty!