July 14, 2022
According to local legend, it's the oldest existing Levi's® advertisement of its kind. It's black and yellow, features two horses attached to riveted denim overalls and was hand painted almost a century ago. The billboard-sized mural survives as one of Levi Strauss & Co.'s earliest ghost signs in one of the most remote corners of California.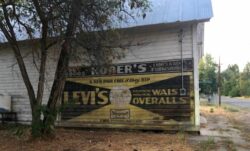 The Levi's® ghost sign, or preserved painted building advertisement, covers a portion of the outside wall of what used to be Henry Kober & Co.'s mercantile in the tiny town of Fort Bidwell, in the northeast corner of California. Records in the Levi Strauss & Co. Archives indicate that Kober's was a retail customer as early as 1909. Back then, folks could buy Levi's® goods in the city or in rural locations like Fort Bidwell, established as a military post in Modoc County in 1865, with a population numbering 180 in 2020.
Kober's was a family-run store that changed names over the years, operating as Henry Kober & Co., Kober's Mercantile and Kober's General Store. Local family-run stores were typical of LS&Co.'s first retailers. LS&Co. encouraged customers to "Patronize Your Hometown Merchant. He's Your Neighbor."
Kober's hand-painted Levi's® advertisement is on the south-facing wall of the store, visible to those passing by on foot, horseback or wagon at the turn of the twentieth century. "Dry Goods, Ladies & Gents, Furnishings," the advert reads, along with Levi Strauss & Co.'s early guarantee: "A New Pair Free if They Rip. Levi's Waist Overalls." Our copper-riveted denim pants, or Levi's® 501® jeans, were originally called waist overalls.
Historically, getting the word out about Levi's® products meant printing advertisements in newspapers or distributing product fliers to retailers. Large colorful murals caught the attention of customers, created local interest and built brand loyalty.
Today, the building that once housed Kober's store is in disuse, but the Levi's® sign that remains exists as ghostly evidence of Levi Strauss & Co.'s early business that continues today.
You can visit an almost identical Levi's® ghost sign in the historic, but easier to reach, mining town of Eureka, Utah. Unlike Fort Bidwell, the Eureka store that once sold Levi's® is still open for business, and the sign is a popular tourist attraction and photo stop. I visited it a few years ago and purchased snacks inside the grocery store before my 1.5-hour drive back to Salt Lake City.