May 18, 2022
On May 20, 2023, the 501®, the world's first blue jean, turns 150 years old. Blue jeans began as an innovative idea to fill a practical need. In the early 1870s, Nevada tailor Jacob Davis hit on the idea of "riveting" work pants by adding tiny metal pieces to pockets. Jacob Davis invited Levi Strauss & Co. to partner on a patent for "An Improvement in Fastening Pocket Openings." U.S. Patent No. 139,121 was granted on May 20, 1873, and blue jeans were born. Today, we celebrate the date as 501® Day.
To mark this milestone, we're kicking off a new series — Countdown to 150, 501® Fab Facts — that traces key moments in the evolution of the 501® jean.
———–
In 1917, Arizona miner Homer Campbell bought a pair of Levi's® 501® jeans. Shiny copper rivets at the pockets and base of the button fly contrasted with the dark indigo color of the raw denim. A leather back patch with its printed Two Horse trademark was sewn to the rear right back waistband alongside a center back cinch. Suspender buttons were the final waistband addition, but one feature familiar to us today was conspicuously missing: belt loops.
It wasn't until a century ago, in 1922, that loops were added to Levi's® jeans. It was during the era of flappers, when Western women sported short skirts and bobbed hair. Styles and customer preferences were changing, and Levi Strauss & Co. followed suit.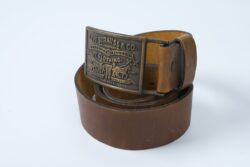 It didn't take customers long to adopt the belt as an everyday accessory to their blue jeans. Rodeo champ Kenneth Cooper wore a belt and 501® jeans when he competed in Hollywood, Colorado, in 1928. A photo capturing the moment shows Cooper grinning with a cigarette in hand. Standing nearby is a group of fashionable flappers donning their cloche hats.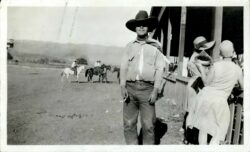 Suspender buttons, an original feature on the waistband of the 501®, were retained for men who preferred to use the back cinch and suspenders. Men who wanted to wear their 501®with a belt cut the cinch off. Some stores event kept a large pair of scissors at the cash desk to cut the cinch off for consumers before they left the store.
Levi Strauss & Co. celebrated rodeo stars by giving out championship belt buckles over the decades. In 1956, the Rodeo Cowboy Association's All-Around Champion Jim Shoulders of Henryetta, Oklahoma, received a gold and silver belt buckle from LS&Co. along with a $1,500 check.
Belt accessorizing became a popular trend for style seekers. Doug Hansen, who created a custom patched 501® that he converted into bell bottoms, wore his 501® jeans with a concho belt in the 1970s. A decade later, Bruce Springsteen wore a similar styled belt with his 501® jeans for the cover of Born in the USA.
Celebrate 100 years of our belt loops by wearing a 501® jean with your favorite Levi's® belt today.