April 13, 2022
Latin America loves its Levi's®.
The cluster's business was up nearly 70%, in Q1 'FY 22, with broad-based growth across channels in Mexico, as well as Brazil and Chile – a remarkable feat. This growth was fueled by multiple factors, including a precise understanding of the local consumer, a retail strategy that draws consumers to the brand and a strong ecommerce business.
The Levi's® brand is incredibly popular in Latin America and has strong brand equity with local consumers. The relationship between the brand and consumers is of paramount importance; the brand team is constantly innovating and thinking outside the box to deliver a personalized and unique brand experience.
"The passion our consumers have for the brand has inspired us to creatively think about how we connect with them, especially in our retail spaces," said Rodrigo Martinez, retail director with LS&Co. Latin America. "We have refreshed certain stores, created immersive brand experiences and opened Indigo stores at a fast pace. These initiatives are truly drawing consumers in and creating life-long fans of the brand."
Indigo Stores designed with consumers in mind
One of the region's top priorities in 2022 is to drive a Direct-to-Consumer-first approach by expanding our brick-and-mortar footprint. In 2021, we opened mainline and outlet stores in Mexico, the Andes region and Brazil. We have also begun remodeling stores in the new Indigo format. The Indigo store model elevates the brand and its values and delivers innovation and omnichannel features to our consumers.
This is a huge win for our consumers; Indigo stores allow for an engaging and personalized retail experience. These stores are outfitted with signature elements that address specific consumer touchpoints and collectively deliver on the brand's personality. Signature elements include a distinct and iconic storefront architecture, digital video screens or large graphics that greet the consumer and provide an elevated brand experience, an improved fitting room design and furniture and fixtures that support more hanging and less folded products. The result is a clean design that encourages consumers to shop for a head-to-toe look.
"The Indigo store format is resonating extremely well with the [Latin American] consumer," said Lance Relicke, Vice President, Global Brand Experience. "The brand enhanced design elements and layout are inspiring to consumers. They are able to have the most elevated experience with the brand and can flow through the store in a way that enables them to imagine a full head-to-toe look. We are excited to continue opening Indigo stores throughout Latin America."
The team in Mexico opened the first-ever Indigo outlet store and also opened the first Indigo stores in Ecuador and Panama.
Immersive Experiences
While retail foot traffic significantly decreased during the pandemic, the Andes reinvigorated its foot traffic when it kicked off its popular Recicla tu Jeans program, which rewards consumers with a $15 (USD) gift card when they donate their gently worn jeans of any brand, style or size. These jeans are then donated to people in need.
At the Madero flagship store in Mexico City, the team completely refreshed the entrance and outfitted it with a mini-Tailor Shop and educational information on Levi's® sustainability practices.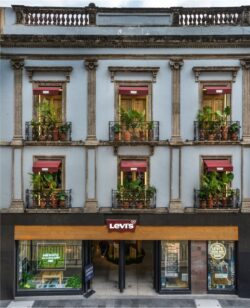 The entrance gallery became a high-energy destination that drew consumers further into the store, sometimes just to take pictures for an Instagram-worthy moment. While consumers took pictures in the space, they also saw the Tailor Shop front and center, instead of having to wind through the store to access it. This has educated more consumers about the Tailor Shop and converted them into repeat users of the service.
Consumers can also learn about Levi's® approach to sustainability and get information about the fabrics and materials used in Levi's® products right in the gallery.
"I am so proud of the great work happening across all of Grand LATAM," said Rui Araujo da Silva, Senior Vice President and Managing Director of LS&Co. Latin America. "The team continues to drive growth and think outside of the box to build strong and lasting relationships with our consumers."