January 26, 2022
International Holocaust Remembrance Day is recognized on January 27 as a time to honor and mourn the 6 million Jewish victims of the Holocaust and millions of other victims of Nazism.
For Holocaust refugees, the years following World War II were a struggle. Many fled Europe and settled in America, including San Francisco, where many sought work in an effort to rebuild their lives. Levi Strauss & Co. was one company that opened its doors for employment to these refugees, a testament to our founder's own origins.
"It all started with Levi Strauss, who came to America to escape restrictive anti-Jewish laws in his native Buttenheim [Germany, formerly Bavaria] and seek religious freedom and economic opportunity in America," said Bob Haas, LS&Co. Chairman Emeritus and great-great grandnephew of Levi Strauss.
"Most of Levi's descendants adhere to the Jewish faith … and several led the company over the years. During and in the wake of WWII, the company's leaders, Walter Haas Sr. and Daniel Koshland, made a point of providing employment to Jewish refugees from Nazi Germany." (Walter is Bob's grandfather, and Daniel is Walter's brother-in-law.)
We look at a few of these employees who not only found a career with LS&Co. but also made important impacts on the company.
Youthwear Design Department Manager Emil Knopf. The war years were harrowing for Emil Knopf and his family in Poland. Emil's father served in the Polish Army and was executed when the Germans invaded. Emil, his mother and sister survived by hiding in a forest for almost two years.
"You were just surviving whatever [way] you could," Emil shared in an oral history interview. "There was a big front. There were a lot of casualties around; bombing every night." When the war ended, Emil traveled to France and Latin America before finally settling in San Francisco.
Emil looked for work right away. The 19-year-old was referred to LS&Co. by the Jewish Family & Children's Service. "I went for an interview," he recalled. "A few days later I was hired."
Emil began at the Valencia Street factory running errands but took on greater responsibilities over the years. He managed night shift production and the denim cutting room, eventually becoming the building administrator.
Emil attended classes after work at San Francisco State University and later, the Salinger School of Design. By the late 1960s, his schooling gave him skills to take on work in design, and he eventually became Chief Designer and Youthwear Design Department Manager, among his many other roles.
Emil got to know LS&Co. leaders Peter Haas and Walter Haas Jr., Bob Haas's father, who took over the presidency from Daniel Koshland in 1958. "They were not like distant people from employees," said Emil, who enjoyed a close friendship with the brothers. "We were always encouraged to do more."
With their encouragement, Emil joined nonprofit organizations and became a founding member of LS&Co.'s Community Involvement Team — the company's first employee community service program that Walter Jr. championed after creating a Community Affairs Department.
Emil retired in 1997. Today, he keeps busy as a docent at San Francisco's Contemporary Jewish Museum.
Seamstress Martha Frankenstein, Factory Workers Julius Frankenstein & Carla Frankenstein.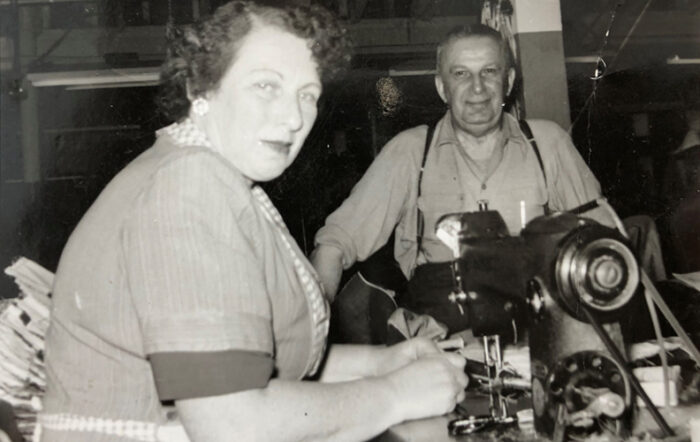 To survive the Holocaust, Judith Kolb's family fled from Germany to Shanghai as refugees. There, the family sheltered together until the war ended, and they eventually settled in San Francisco.
"When I present my family's history, I always mention my gratitude to Levi Strauss [& Co.] for hiring three members of my family when we arrived in San Francisco from Shanghai in 1948," Judy said.
Martha Frankenstein, Judy's grandmother, was a master knitter and seamstress. She was hired at LS&Co.'s Valencia Street factory, putting her skills to work on denim riveted clothes. But she wasn't the only one. Martha's husband, Julius, and daughter, Carla, were also hired to work at the factory.
Judy enjoyed a happy childhood in San Francisco while her grandparents and mother worked at LS&Co. Several cherished family photos capture their time at the factory. One shows Martha sitting in front of a sewing machine, with denim pieces stacked around her. Her husband, Julius, stands nearby. Another shows Martha standing near the front of a large crowd wearing a patterned dress. To her right, in the second row, stands her daughter, Carla.
Family photos are a few of the mementos that remain to document the journey many Holocaust survivors took following the war. But their stories, including those here at LS&Co., leave a legacy and ongoing testament of resilience and strength that can inspire us today.