October 13, 2021
Last year, retailers around the world grappled with the impact of the pandemic by closing store doors and limiting foot traffic to keep employees, communities and shoppers safe. As a result, many were tested as they planned and executed a predominantly online holiday season. According to the National Retail Federation, online sales were up roughly 24% in the 2020 holiday season compared to the previous year.
As uncertainty around the pandemic continues today, consumers are again expected to gravitate to online shopping for the 2021 holiday season. But it's not enough for retailers to play the same playbook as the year prior. To stay ahead of the competition, retailers must further their efforts and continue to bring highly personalized and seamless shopping experiences across all digital channels to shoppers.
Over the past years, Levi Strauss & Co. has seen great adoption across its digital channels—a testament to the company's strategy to be Direct-To-Consumer (DTC) led. This last quarter, LS&Co. saw its DTC-specific revenues increase 34% compared to the same quarter in 2020 and up 4% from the same quarter in pre-pandemic 2019.
To continue the momentum across its digital channels, LS&Co. is leaning into technology to bring even more personalization and shopping ease to fans everywhere, ensuring they find the products they want and love before inventory runs out.
Enhancing Product Search & Discovery Online
Finding the perfect pair of jeans, tops and/or accessories should be easy regardless of how and where you shop. However, searching and finding inspiration online takes a slightly different approach since perusing racks isn't an option. That's where technology can play a massive role.
Ahead of the holiday season, Levi's® is enhancing its ecommerce product listing page, with the use of AI and automation, to create highly personalized recommendations for each shopper. The product listing page will show relevant products based on the shopper's product history and preferences as well as cross reference with Levi's® inventory—all in real time. We'll continue to innovate on this capability to make it even more dynamic. Eventually, as consumers continue to interact with the site, the algorithm will continue to learn a shopper's preferences, ensuring fans are getting tailored and available product recommendations while also serving up new product inspirations.
Similarly, searching directly on the Levi's® website will now be more intuitive and tailored. With the use of neural-network-based machine learning, the website's search function will deliver personalized search results with even the simplest of keyword search terms. For example, when a shopper searches 'jeans', the results that appear will be based on consumers' preferred gender, color, fit and history. Again, serving the right products at the right time for each individual shopper. We're currently testing this solution in select regions and are excited to evolve this capability globally throughout the coming year.
Innovating New Ways to Search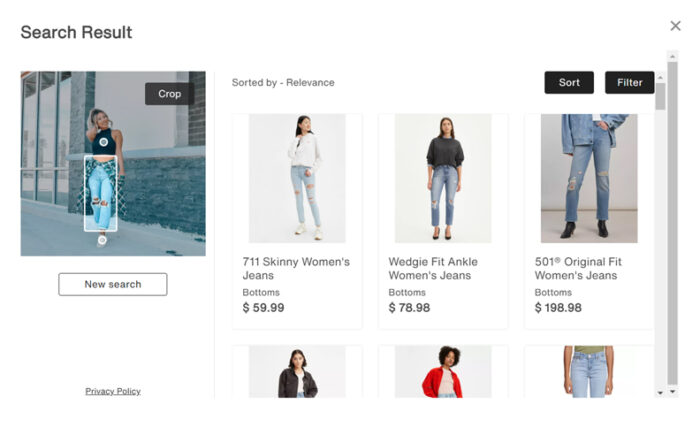 We know that shoppers often find inspiration in many ways, from seeing a friend's outfit to watching a TV series. In-store, consumers may have conversational interactions with a stylist, showing them photos from social media sites or anywhere else, to help describe what they're looking for.
Online, being able to convey exactly what you want is even more difficult.  It can be hard to describe desired looks with select words in a search bar but thanks to new advancements in technologies like computer vision, Levi's® consumers will be able to visually convey what they're looking for with the upload of a photo.
Launching as a pilot in November in the U.S., the Levi's® e-commerce site will allow shoppers to visually search for products. Fans can upload any image directly onto the site—think a stock photo of jeans, a post pulled from a celebrity's Instagram or picture from their friend—and the site will pull up relevant products based on that image. Leveraging multiple markers across the image, the technology cross references with Levi's® products and brings up similar items. We'll bring this technology to Europe in early 2022.
As we approach the 2021 holiday season, we're excited to bring new features and capabilities to our online shopping channels so fans can get a truly tailored experience.