September 29, 2021
Salvador Garcia and Katherine Buchanan recognize how their different heritages have had a profound impact on their lives.
According to Katherine, her childhood visits to her parents' home country of Ecuador were transformative — from an early age, these visits instilled in her a global mindset that she still cherishes today.
Salvador, a native Mexican, said he's always considered himself to have a global mindset as his wife is French and he spent considerable time living in London. Only after moving to the U.S. did he experience the good and bad of the Latino identity in America, enjoying strong camaraderie with fellow Latinos whilst also experiencing prejudice.
Their stories are a snapshot of the myriad experiences of those who make up the vast Latinx community, and just one of the many challenges the Levi Strauss & Co. LatinX Employee Resource Group (ERG) is working hard to address when it comes to finding common ground among an array of cultures and nationalities within a group.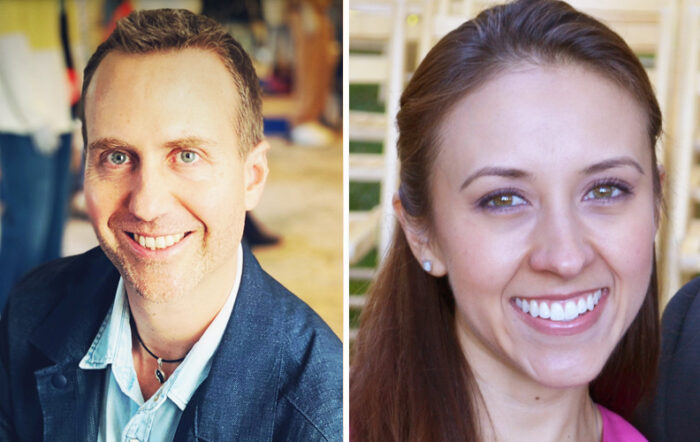 Katherine, global head of merchandise, planning and inventory for the Dockers® brand and Salvador, global vice president with Human Resources, are the new co-executive sponsors of our Latinx ERG. The two shared their ideas for the ERG and what it means to celebrate Latinx Heritage Month.
The LatinX ERG, which has about 120 members, has become a nexus of support, enrichment and connection for the Latinx community here at LS&Co. Members come together to ensure the company continues to be a place where Latinx colleagues are valued and can thrive. In recognition of Latinx Heritage Month, the group is hosting numerous events ranging from talks on succeeding in corporate America to celebrations of distinguished figures in Latinx history.
Salvador said he was motivated to become an executive sponsor after observing the work and impact of LS&Co.'s Black ERG, Project Onyx. As he sees it, one objective of the LatinX ERG is to figure out how to elevate the voice and the business impact of the Latinx community within the company. "I think we have room to grow our participation and ensure there is not just the development piece for members but also look at how the ERG can bring that Latinx lens to our products as well as our work culture and ways of working together."
The ERG is also seeking to help LS&Co. further cultivate brand awareness. Katherine said one thing she hopes to emphasize is the company's opportunity to tap into the tremendous size and buying power of the Latinx community. "There is a lot of brand love and awareness for Levi's across the Latinx community, so it's smart business sense," she said.
That outreach has manifested into a bigger Latinx Heritage Month brand campaign this year via levi.com featuring members of the Latinx ERG. It serves as a particular point of pride for Salvador and Katherine as executive sponsors. "I think they really should be given credit for the time and effort that they are putting forth to show up differently this time around. Given everything that's transpired over the last year, I'm really proud of how the group stepped up," Katherine said.
Katherine added that she sees Latinx Heritage Month as an opportunity to create more synergy between cultural heritage and the company.
"It's about bringing awareness and giving a voice and celebrating those who make up the Latinx community here," Katherine said. "And there's also people who are attracted to that vibrancy that runs through our community, so this gives us a forum to celebrate that but also drive awareness and educate."