September 8, 2021
The Red Tab Foundation (RTF) is entering into its fifth decade of channeling employee kindness into hardship grants.
Widely considered the original hardship fund, RTF offers hardship assistance and preventive programs to LS&Co. employees, former employees and their families. For 40 years, we have delivered more than $26,500,000 in the form of 25,000 grants to those who needed it most.
The success of this past year in particular comes at a remarkable moment when the world continues to grapple with the global pandemic and environmental calamities have left many struggling. Taking an agile approach to the overlapping challenges people faced, the foundation quickly flexed, tweaking grant guidelines to maximize its overall impact. As a result, RTF more than doubled its pre-pandemic giving efforts, delivering $2.4 million in hardship support to more grantees than ever before. The foundation also reached a milestone with more than $1 million saved through the Red Tab Savers program, the first-of-its-kind proactive program in the employee hardship space. Those efforts are highlighted in the latest RTF Annual Report for fiscal year 2021, which launched today.
"These accomplishments are not only ours, but yours. To meet the need, the LS&Co. community stepped up for each other with a 42% increase in donors. While RTF served as a catalyst, it has been employees, retirees and shareholders of the LS&Co. community that have funded this work and brought the company value of empathy to life in the middle of a global pandemic, providing a lifeline for those who needed a hand to lift them up," said RTF Executive Director Jenny Calvert Rodriguez.
RTF has been able to improve lives with more than 1,800 grants given in the last year, like that of Kratina F., a distribution center employee in Nevada. "One day I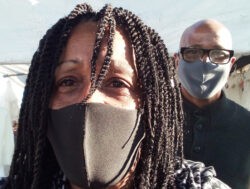 received a phone call telling me that my brother has coronavirus and they're waiting for his heart to stop…Devastating news. I had never planned for something like this."
RTF was able to help with emergency medical travel that same week. "After being connected to the Red Tab Foundation, I was amazed at the response that I got from them. Their support helped me mentally, emotionally and financially," Kratina said. "We were able to drive to California and rent a hotel room (we didn't have anywhere to stay due to COVID-19), and safely returned home."
Learn more about the Red Tab Foundation's work over the past year and read more stories like Kratina's in our 2021 Annual Report.