September 1, 2021
To vintage clothing collectors, graphic artists and designers, our Levi's® Red Tab is an icon. Today, you'll find it on an array of Levi's® products, from jeans to backpacks. The Red Tab officially debuted on September 1, 1936, so to celebrate its 85th anniversary, we're looking back at one of the most defining features of Levi's® products for the past eight-plus decades.
An origin story decades in the making
Levi Strauss & Co. and tailor Jacob Davis received a U.S. patent to make riveted denim pants in 1873: the first blue jeans. However, in 1890 the patent went into the public domain, which happens to all inventions after a certain number of years. Suddenly everybody who had a dry goods business or was somehow linked to the clothing industry was making riveted denim clothing.
And of course, it looked just like ours.
This went on for decades, and by the 1930s managers were pretty frustrated. They were always doing informal market surveys — which generally meant looking at the public's rear end on the street and at rodeos — and had trouble distinguishing our products from the competition when viewed at a distance.
The problem was solved in 1936. On a visit to Santa Cruz, California, National Sales Manager Chris Lucier came up with the idea of placing a folded cloth ribbon in the seam of a rear patch pocket — in other words, the Red Tab. Once the tab concept was adopted, the word LEVI'S® was woven in white on the red ribbon and sewn onto the right back pocket of the 501® jeans.
It worked beautifully: the deep red contrasted with the dark blue denim, and suddenly management had a much easier time with its market surveys. LS&Co. also included the phrase "Look for the Red Tab" on a variety of in-store and outdoor advertising in the 1940s and 1950s.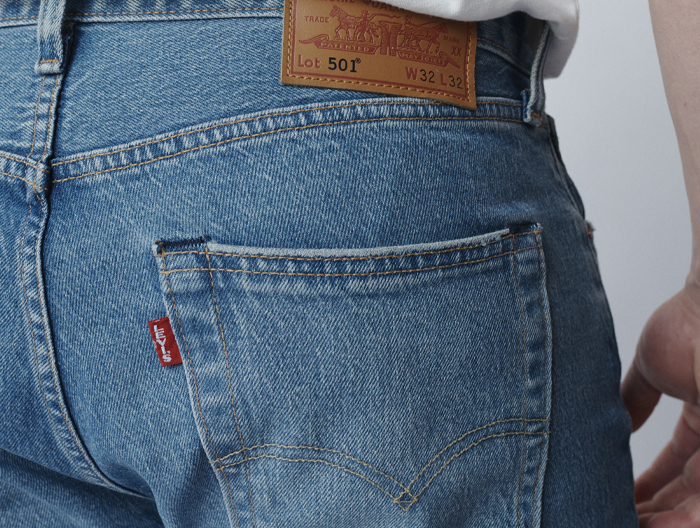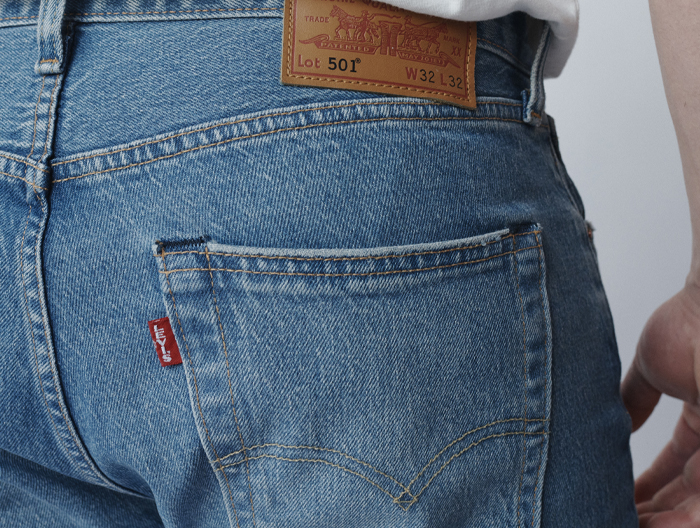 An icon is born
The Tab Device was registered as a trademark and began appearing on other Levi's® products beyond 501® jeans, starting with Levi's® jackets in 1937. The Tab Device color itself would eventually move beyond red to white, orange, black, silver and more. These represented different lines of clothing, like the blue Tab with white lettering for our 1950s Denim Family; the black Tab with gold lettering for our 1960s Sta-Prest; or the silver tab with white lettering for our 1990s SilverTab line. The garments ranged from corduroy flares and boot cut jeans to loose-fit Levi's®.
Over time, we also created dozens of Tabs that included images, varied lettering colors and unusual colorways. In the 1970s, for example, our Fresh Produce line sported a tiny carrot and for the 1984 Summer Games, gold medalists received a custom 501® with Red Tab sporting gold letters. More recently, we added a rainbow Tab to Pride products and a Poké Ball Tab in red, white and black to our Levi's® x Pokémon collaboration.
Over time, the Red Tab also became a tried-and-true method for dating original Levi's® jeans and jackets, thanks to the letter "E." When we originally added the Red Tab to our 501® jeans in 1936, the word "LEVI'SÒ" on the Red Tab was stitched in white in all capital letters on one side only. Then in 1971 we tweaked it so that the word "Levi'sÒ" was stitched in white in both upper and lower-case letters, with a capital "L" only. The "E" was the only letter that looked like it had changed.
The switch came after Walter Landor & Associates created our "batwing" housemark in 1967. Landor said that the word "Levi's®" inside the symbol should be in upper and lower case to reflect the fact that it was a proper name: the name of our founder.
By the 1980s, vintage clothing collectors were hot for Levi's®. Our products became a collectible commodity. Vintage seekers from as far away as Japan traveled to the American West in search of Levi's®, and the older the denim was, the better. Reviewing the obvious design details of Levi's® — like our Red Tab — they agreed that only Levi's® with the big "E" on the tab were true vintage. This concept was adopted by all collectors and is now accepted as the true measure of original vintage for Levi's® brand products.
So, if you've got a pair of Levi's® that are 85 years old (or older) and you're looking to date them, look no further than the Red Tab — and this handy guide, which can help.
Date Your Denim: A Red Tab Vintage Shopping Guide
1873-1935 No Red Tab on your vintage Levi's®? They could be some of our oldest.
Pro Tip: Make sure the Tab hasn't been cut off — a practice of early discount houses and women in the 1930s and '40s, who removed labels.
1936 -1952 Check for the word LEVI'S® stitched in all white capital letters on one side only. The Red Tab was first attached on our riveted overalls (501®) on September 1, 1936 and our jackets on July 1, 1937.
1953-1970 By around 1953, the word LEVI'S was stitched in white in all capital letters on both sides of the Red Tab.
1971 – The word LEVI'S®, which had been in all capital letters on the Red Tab, was changed to lower-case "Levi's®." And beginning in the 1970s, production tags were sewn into the inside waist band or other spot inside Levi's® garments. Some of these 1970s tags included a red "batwing" logo. Later, we attached care labels to the inside of our products.
2018 – In 2018, the "Big E" Red Tab was reintroduced to designate Levi's® premium products. To separate new "Big E" (2018+) and original "Big E" (1936 to 1970), look for care tags. All the tags on the inside of current Levi's® garments wouldn't have been on pre-1971 products.
Blank Tab: To preserve our use of the Red Tab, 10% are produced with only the ® symbol.  The only exception to this rule is for Levi's® Vintage Clothing (LVC) product. The blank tab was not used on old product, so the tab used on LVC garments must have the Levi's® mark on it.
Grab your own Red Tab products today on levi.com.