June 23, 2021
Earlier this month, the Henderson, Nevada distribution center (DC) pulled off a first for Levi Strauss & Co. – it became our first owned-and-operated (O&O) facility to fulfill orders for ecommerce, retail and wholesale channels.
It's the omnichannel fulfillments that distinguish this Nevada center from our other O&O DCs, which will increase agility, profitability and ultimately the consumers' experience when engaging with our brand. By bringing together our retail, wholesale and ecommerce fulfillment, we can improve our in-stock availability of items by easily transferring them within one warehouse and reduce the lead-time needed to get items ready to ship to consumers.
"Given the importance of our direct-to-consumer businesses, we are excited to have more control over our consumer experience by investing in leading technology and expanding our fulfillment capabilities," said John Prendergast, Vice President, Distribution, the Americas. "Fulfilling ecommerce orders helps us put the consumer at the center of our operations and build a new competitive advantage for LS&Co."
Transforming our ecommerce operations
Taking over the Henderson DC's second floor, the team transformed more than 100,000 square feet of open space into a warehouse that could serve the West Coast's ecommerce business. In just 10 months, hundreds collaborated to build the technology, integrate complex systems, train staff and bring this capability to life, all while navigating pandemic restrictions and slowdowns.
"We essentially built a warehouse within a warehouse," said Ben Elwood, Director of Distribution Operations. "Prior to this launch, goods were double handled and transported to a new third-party facility. By bringing all the fulfillment operations into one building, we cut off about two weeks of inbound lead-time and introduce more operational flexibility."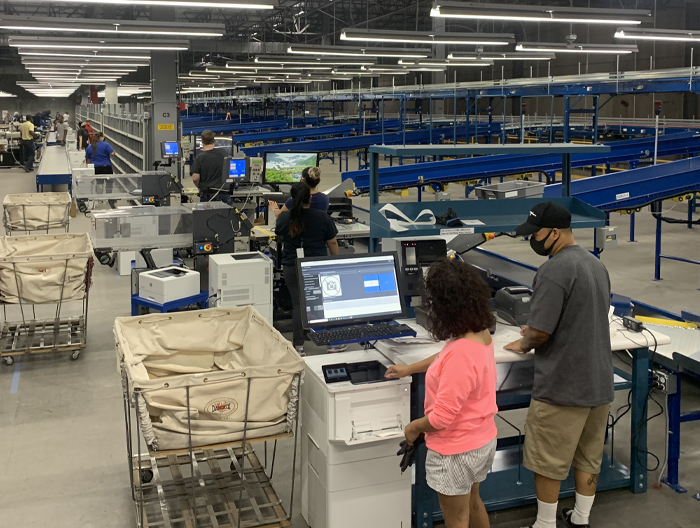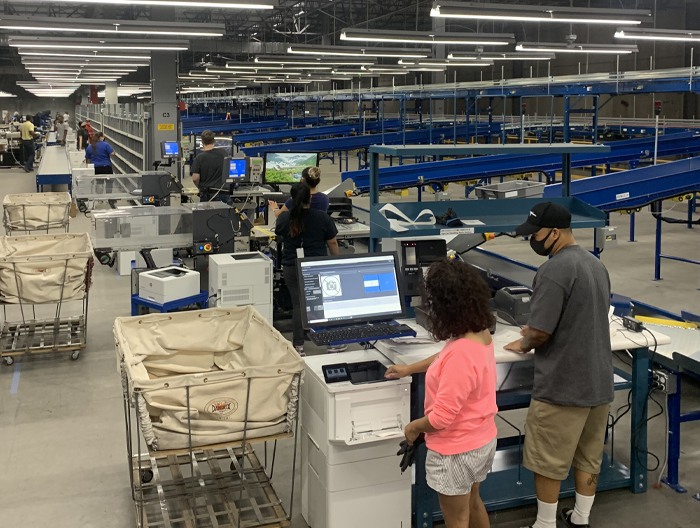 Building the technology
One of the main differences between wholesale and retail fulfillment versus ecommerce fulfillment is the size of the orders. Where the former is hundreds of items at a time, the latter is one or two items per shipment, requiring different operations as well as different technologies to make the picking and packing process more efficient. At the core of all DC operations is a warehouse management system that coordinates and manages the data flow, telling a person what and where to pick to then ship to a consumer. Because ecommerce technology is moving so quickly, it is important that we're able to update our warehouse systems regularly.
To enable this, the team looked to the cloud.
"We deployed Manhattan's Active Warehouse Management technology, an industry-leading solution that provides real-time functionality updates and will automatically scale to meet future growth and performance demands," said Chris Conrad, Vice President, Global Business Transformation. "This will drive efficiencies and agile ways of working, ultimately fueling our digital transformation in distribution technology."
The benefits of using a cloud platform are enormous. The technology can scale and enables data to easily flow between systems so relevant information is passed to the right people in a timely manner.  "It's truly a gamechanger for us," Ben said.
Enhancing our infrastructure
Additionally, the team took the opportunity to build more efficiency and automation into all manual core processes and our physical infrastructure, to drive efficiencies throughout the facility including auto-baggers and put walls.
The put wall is a centralized "divide and conquer" approach that allows us to fulfill ecommerce orders in bulk. Here's how it works: Instead of fulfilling one complete order a time, which would require workers to travel throughout the entire DC searching for each item in the order, workers are given multiple partial orders to fulfill at a time, based on their zone in the DC. They'll find and collect the items in their zone while other workers in other zones do the same, and then all items are put on a conveyor belt to the put wall. Here, an operator scans the items and puts them into individual cubbies for each ecommerce order. The cubby lights up when all items are in, and another operator on the other side of the wall sends the order off to the autobagger, a machine that puts a unit into an open bag and seals it, and shipping.
"Henderson is only the beginning. We'll continue investing in more automated infrastructure at our DCs," said Victoriano Molina, Lead Engineer and Sr. Director, Process Excellence and Delivery. "We're already piloting robotics and other exciting technologies that will start to show up in our network very soon."
Looking forward
Our omnichannel Henderson DC is already off to a strong start. In just its first week, the facility exceeded its week-one expectations and shipped four times the expected amount. The team expects this output to only increase from here as they learn more about omnichannel fulfillment.
"I am incredibly proud of the team that designed new systems and stood these operations up in less than a year," John said. "After such a strong start, I can't wait to see what the coming months will bring, and what we take on next."
LS&Co. offers all of our warehouse employees the opportunity to work in the ecommerce fulfillment center and learn different types of automation that will grow their careers. Know someone interested in joining the team? We are hiring across positions and locations. Check out the jobs here.