June 14, 2021
The following story is based on a recent oral history interview with retired Levi Strauss & Co. factory workers Louis and Irene Castillo and their grandchildren, Moriah Peters Smallbone and Isaiah Navarette, who acted as translator for Louis and Irene.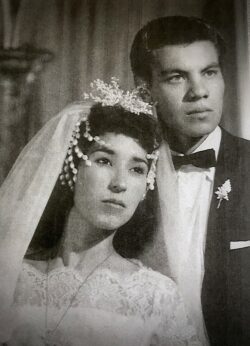 It was 1967, the year of the Summer of Love, when Louis Castillo started working at Levi Strauss & Co. Born in Mexico to a large family, Louis was a gifted musician and had been playing with a band with his brothers. Now married to his wife, Irene, with two daughters, he left behind aspirations as a musician in search of more steady work and applied for a position at the Levi's® Cypress facility in El Paso, Texas. "[I] started off with [belt] loops on the pants," Louis remembered, "and then went over to packaging . . . the pants and moving them to the shipping containers."
Irene was a skilled seamstress herself. After marrying, she took time off to raise her girls but in 1974, when her daughters were older, Irene found work near Louis at the Airways plant, another LS&Co. facility in El Paso. Supervisors at the plant recognized Irene's talent immediately, and within a year she was promoted to sewing division supervisor, eventually managing 50 seamstresses.
Louis and Irene left home together for work every day just after 6 a.m. Louis dropped his wife off at Airways and then drove another 10 minutes to the Levi's® Cypress plant to begin his 7 a.m. shift. It was common for groups of families and friends to all be working at the plants. "My grandma's brother worked [at the plant] for 30 plus years as well," Isaiah Navarette, Louis and Irene's grandson, shared.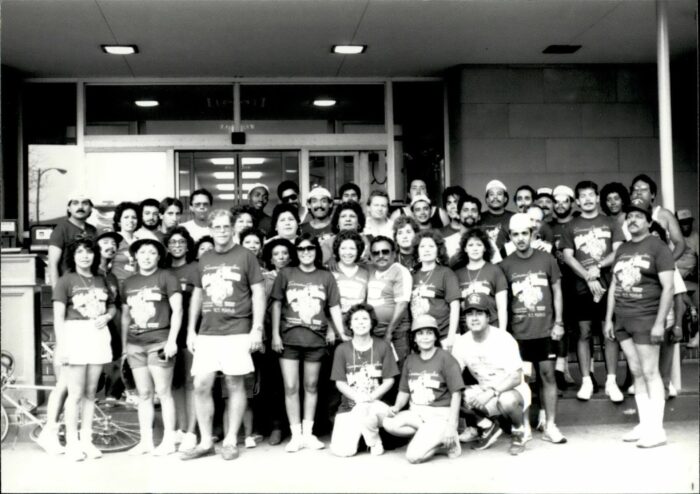 Although it was busy at work, Irene recalled laughter, friendships and swapping stories in Spanish — the most common language at the plants. She and her coworkers celebrated holidays and shared food, from sandwiches to tacos. "They [had] a food truck outside that would be selling a wide variety of Mexican food — tacos, enchiladas, burritos and stuff like that," Irene recalled. Music kept their spirits high. Irene's favorites tunes? Songs from salsa singers like Celia Cruz.
For fun, El Paso employees celebrated holidays and time together away from the plant. "Every year they would actually have a Christmas party," said Irene, "and then after work, [we] would all hang out and go to a nearby restaurant and stuff like that to relax from working a long day."
Irene and Louis shared their regular routine for decades, helping produce and package thousands of Levi's® garments — all while raising their family. Irene remained at Levi's® Airways plant for 24 years, retiring in 1998. Louis handled a variety of duties in shipping for 33 years, retiring two years after Irene.
Today, the couple enjoy a quiet life and the love of their family. Grandson Isaiah recently graduated from the University of Texas in Mathematical Sciences. "He's a brainiac," jokes granddaughter Moriah Peters Smallbone, who finished a program at a university in Nashville, Tennessee, for recording artists who complete a degree while working. "My sole motivation in graduating," she said, "was to give my grandfather my diploma."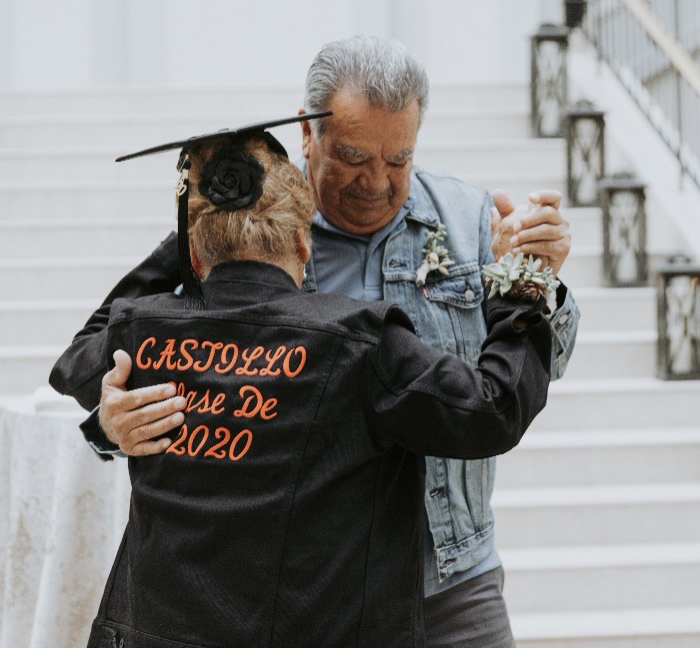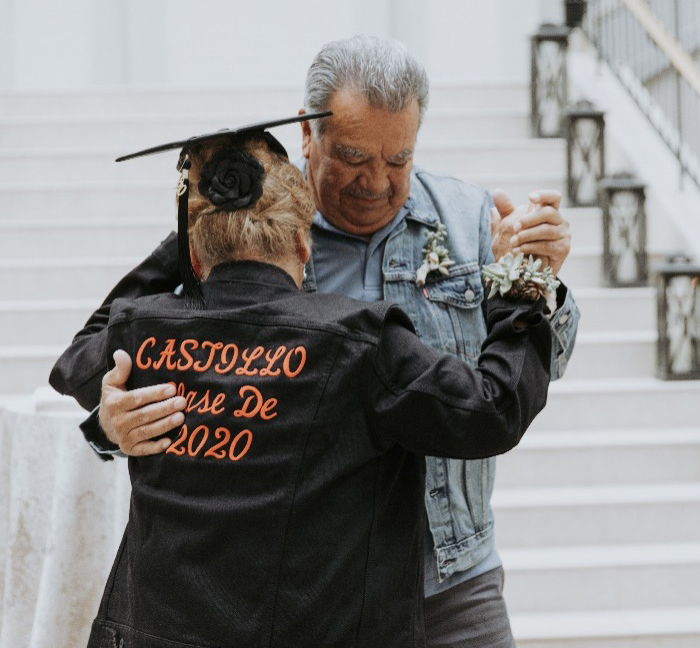 Moriah credits much of her success as a music artist in Nashville to her grandparents. Reflecting on her rising career, she points to the love and sacrifices of her grandparents as key ingredients to her success.
"When people ask if it was difficult to do school and music full time simultaneously, well, it did take me twice as long as the average four-year college student. But when the voice within began to complain over writing an essay after a show or failing an accounting class for the third time, a choir within rose to meet it," Moriah shared with loved ones at her graduation party this past month. "The voices of my great grandmother and grandfather, Nana and Tata, grandma and grandpa, raised decibel by decibel with the toughness of a culture refined by generations of sweat and survival began to cut through and say with love and conviction 'don't you dare drop the mic!'
"My love of music comes from my grandfather," Moriah said, acknowledging the music career he gave up to provide for his family. "For this generation, for me, for Isaiah [and] for [my cousin] Erika . . . we all look to our grandparents as the motivation behind everything that we do."