June 1, 2021
The Levi's® Pride Collection has always kept visibility for LGBTQIA+ people at the heart of its purpose since it launched in 2014. This year is no different, with the newest collection centering on the power of self-identification and visibility as the struggle for rights and protections for LGBTQIA+ people continue in the U.S. and beyond.
According to Austin McCune, senior merchant for the Levi's® brand who oversaw the creation and development of the collection, the simple idea of visibility can provide tremendous comfort to those who often don't feel seen.
"One time I was traveling internationally in a not so LGBTQIA+ friendly place, and I saw someone with a rainbow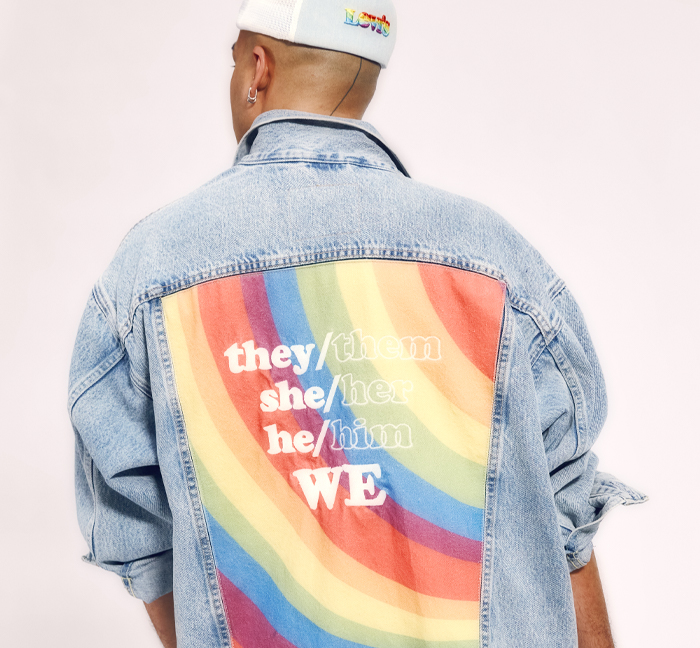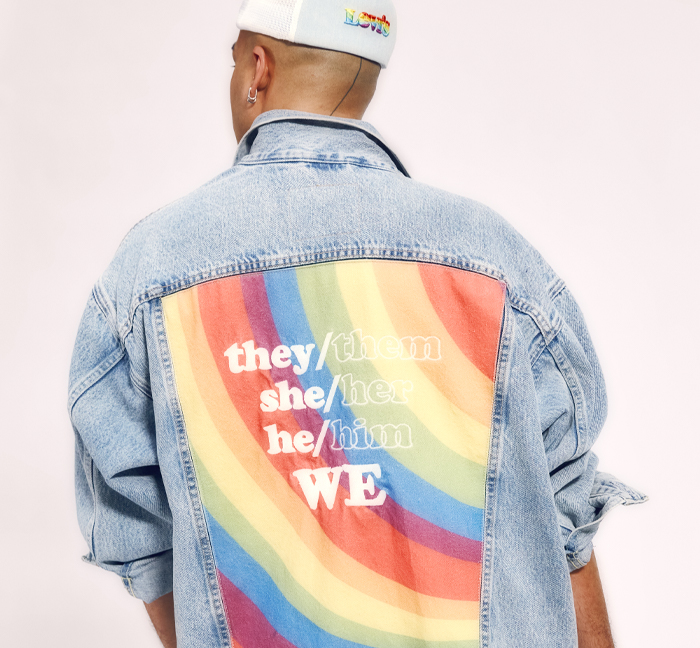 lanyard. It was just really comforting for me to see someone out there, in a foreign place, who I felt would have my back," he said. "And that's what I think is special about our Pride collection. It's all about that visibility and how it does have an impact and makes people feel more included."
Bright, playful and genderless, the 2021 collection has grown to nearly 20 unique items and includes Pride-inspired customization options for tops and bottoms. Many of this year's tees and hoodies play with graphic treatments of self-identification pronouns; "he/she/them/they" are front and center to honor their importance to the many people seeking respect and visibility.
New to the Pride collection in 2021? A sports bra, which also happens to be Austin's favorite piece. "The reason I say that is because this collection is genderless, as are many pieces in the Levi's® [product line]," he said. "But when you look at the genderless marketplace, it's very masculine-leaning. It's mostly men's product that works for a woman. Introducing a sports bra flips it on its head."
According to a 2021 Gallup survey of American adults ages 18-23 (Generation Z), one in six identify as LGBTQIA+. As acceptance has evolved for this growing segment of the population, the Levi's® Pride collection was designed to reflect the challenges the community faces.
"When [the first Pride collection] was launched in 2014, it was initially focused on marriage equality," said Austin. "Gays were still somewhat marginalized, but there's been an evolution. This time around, the Trans community is fighting for their voice; this collection is a love letter to that community and this idea of 'All Pronouns, All Love.' Part of it is about education, but it's about inclusion, too."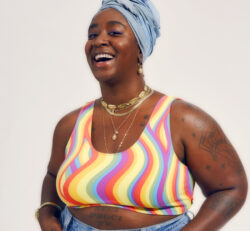 This year continues the tradition of 100% of net proceeds from the Levi's® Pride Collection's sales going back to the community, and since 2020 they've gone to OutRight Action International. The organization works at the international, regional and national levels to research, document, defend and advance human rights for LGBTQ+ people around the world.
As the collection has expanded to nearly all countries where Levi Strauss & Co. operates, having a global nonprofit partner has been vital.
"We always want to make sure we're working with countries at the right time," said Austin. "Of course, we first launched in the Americas, and we recently launched Pride in India." The collection is also produced in countries favorable to the LGBTQIA+ community — denim is produced in Mexico and all knits are made in Vietnam.
As it continues to grow, look for the Pride collection to continue bringing visibility to self-identification and gender issues, according to Austin. "We've kept it as a unisex collection, including extending our size ranges on select pieces, so we've made it even more inclusive. We keep trying to tweak it each season to make it more refined and more relevant to what's really going on."
Shop the collection now on levi.com.