March 31, 2021
'Then to Now' highlights the career paths our employees have taken to get to where they are today here at Levi Strauss & Co. In this special Women's History Month edition — created in partnership with Rivet, our U.S. women's employee resource group — Judy Lerebours, Toni Hall and Vidya Murthy share their career journeys so far, along with a little advice for others looking to grow professionally.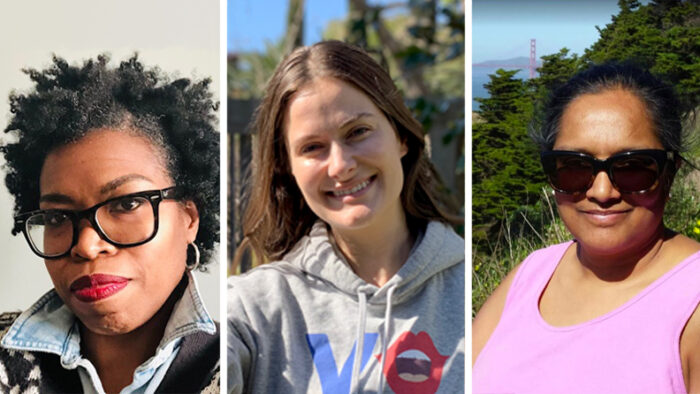 Judy Lerebours — From Store Manager to Retail Communications
Her biggest professional challenge: Moving from New York to California to achieve her career goals.
"It seemed like if I wanted to advance to a role at headquarters the only viable way to do so was to work in the San Francisco Bay Area. I ultimately made the decision to take an opportunity as a store manager for the San Francisco Plaza Levi's® Store in 2018, and now I've just been promoted to my current role as a retail communications specialist."
How she advocated for herself and her career.
"I've advocated for myself by putting myself in the path of opportunities. There were also times where I created an opportunity by not being afraid to reach out and ask someone, 'Hey, what do I need to do to get to the next step? How can you help me?'"
Her advice to others looking to move from retail to corporate.
"Find your 'Red Thread' — the thing that continuously pulls at you and emerges to be the thing you see yourself doing full-time. There are many avenues within corporate, not just the ones that have the most in common with what we do in the field. Sometimes that Red Thread isn't what you originally thought it was because you exposed yourself to another avenue of opportunity.
Toni Hall — From Intern to PR to Marketing
Her first LS&Co. job? Summer intern back in 2013.
"It was the best internship experience I've ever had and was remarkably valuable toward my career. I remember Chip Bergh saying, 'Think of this internship as a 10-week interview,' and that's what I did. I stayed on the PR team after that and worked my way up to PR manager in five years. Now, I'm a manager of U.S. consumer and engagement marketing."
How she achieved career and personal growth: Having great mentors.
"When I started here, I was 22 years old, a week out of college and had a lot to learn. Having a mentor from the start — shout out to Kelly Moss, head of Global PR! — taught me so much, and I wouldn't be where I am without her guidance and encouragement. Having a mentor is not a sign of weakness; it shows you are smart enough and driven enough to succeed."
Her tips for others hoping to take the next step.
"Identify your goals (meditating and journaling daily helps me with this), stay positive, make the best of where you are, learn something new every day and don't take constructive criticism personally. Also, explore new ways to challenge yourself within the company — you might be surprised at how much you can learn within one organization!"
Vidya Murthy — From Contractor to Director, LSA Data, Analytics and AI Lead
Her biggest career challenge: Identifying what she was good at and finding the right role for her strengths.
"Once I did that, I have focused on identifying interesting roles and adding exceptional value in each. This strategy helped me build a great network of smart and successful people who have helped me get to where I am now."
Why it's important for women to take up technical roles: Because women need a seat at the table.
"I want to see women in all roles. As we are moving toward a world driven by algorithms and models, we need to ensure that our perspective as women is reflected in these algorithms and models."
Her tips for others hoping to take the next step: Use all available resources.
"You can learn so much by taking online courses and tutorials. And don't be afraid to reach out to people and ask for informational interviews. People love to talk about themselves, and you can learn so much from these conversations."
Interested in joining us here at Levi Strauss & Co.? Check out our latest job openings.