February 4, 2021
Now more than ever, ensuring the health and safety of our employees, especially our frontline workers, is critically important for us here at Levi Strauss & Co. As part of this work, LS&Co. recently launched our first on-site comprehensive health care clinic in the U.S. at our distribution center (DC) in Canton, Mississippi. Through this unique program, our DC employees now have direct access to quality and convenient health care services at their workplace — with a full medical staff including physicians, nurse practitioners, licensed practical nurses and wellness coaches offering a wide range of health and well-being support.
The on-site clinic offers convenient in-person visits and televisits to address ongoing health conditions such as heart issues, diabetes, allergies, high blood pressure, cholesterol and weight management. They also cover common illnesses and injuries, including colds, flu, sore throat, upset stomach, joint pain and more — all at zero cost to our employees.
"Copays, deductibles, and other out-of-pocket costs are often a roadblock to health care," explained Brandy Grovich, Health & Safety manager. "It was critical for us to improve our employees' access to care by removing barriers."
It's not yet common for companies to offer such a benefit to their employees — in a 2020 employer-sponsored health and well-being survey, only 25% of the 152 employers surveyed offered some sort of on-site chronic condition management.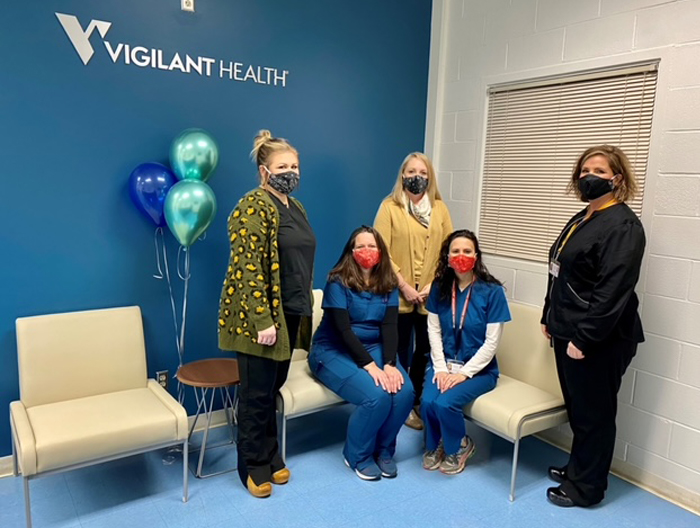 "We are proud to be a leader in workplace well-being with this unique program," Brandy said. "Providing this benefit is an important step forward in delivering easy and accessible health care for our frontline workers in the DCs."
This is not the first time LS&Co. has been a pioneer in delivering seamless access to health care. The new comprehensive health care clinic evolved from the Diabetes Care Group program introduced in 2019. Through that program, employees at our DCs have access to on-site diabetes management at no cost to them. Those who took advantage of this benefit have enjoyed the convenience and easy access to expert care, with some impressive results.
"Diabetes Care Group is a blessing. My A1c is way down!" said Bernestine, an employee whose A1c levels moved from 10.2 to 7.7 after three months with support from the clinic.
Another employee, Francis, whose A1c levels lowered from 10.0 to 7.1 in four months, praised the medical staff. "Everyone is so kind and wants you to see them," she said.
We are thrilled to expand on this success and support more employees across a full range of health and well-being concerns, and will be rolling out more on-site health and well-being clinics at our other U.S. DCs throughout the year.
"This rollout directly aligns with our strategy to invest in our frontline teams and ensure we are providing resources that allow our people to be their best at work every day," said John Prendergast, vice president of distribution in the Americas. "You can expect this to be the first of many similar changes over the next few years."
The health of our employees — emotional, mental and physical — is a top priority for us at LS&Co., and we are proud to provide benefits that help support them on this journey.