January 6, 2021
In the 2005 movie, The Sisterhood of the Traveling Pants, four friends stay connected by passing around a pair of secondhand Levi's® jeans. The Levi's® "travel" to a host of places, becoming the common thread in their varied stories. The jeans from the popular film are now preserved in the Levi Strauss & Co. Archives alongside another pair of lesser-known traveling Levi's®. Here's the real-life saga of "Homer," a pair of 501® jeans that have spent more than a century traveling around the world, going everywhere from an Arizona mining town to far away Germany — and even the Happiest Place on Earth.
The Saga Begins
"Homer's" odyssey begins in 1917, when hard rock miner Homer Campbell purchased a pair of Levi's® 501® jeans. He had purchased Levi's® before and knew the pants could hold up to hard use. Working near Wickenburg, Arizona, Homer spent six days a week doing tough labor in the hot dusty climate. The Levi's® were his daily uniform and he customized them to suit his needs, stitching up the cuffs and padding the front legs by sewing on layers of denim patches. He even sewed a tool pocket to the right back side of his jeans. Over time, he replaced a lost button with a bone one and attached a bit of rope through the buttonhole on the top of the fly.
Homer Campbell wore those 501® jeans for three long years of work, changing out of them only on Sundays. By 1920, however, Homer felt the Levi's® hadn't held up as well as prior pairs, and so he decided to test the company's guarantee, "A New Pair Free if They Rip." He packaged up his jeans and posted the parcel to Levi Strauss & Co. in San Francisco.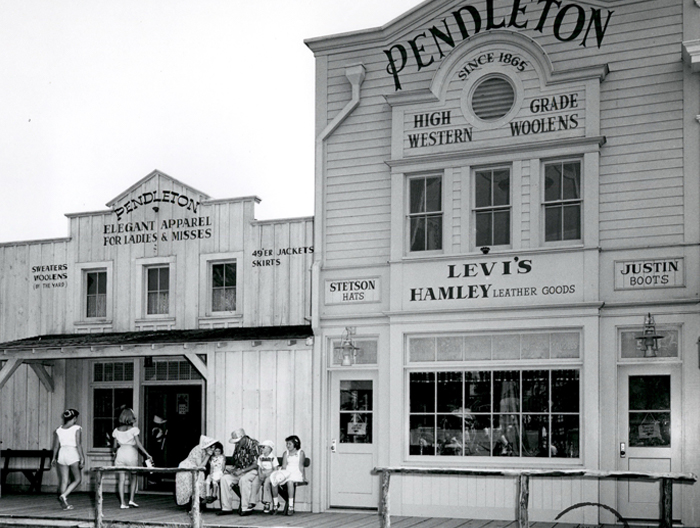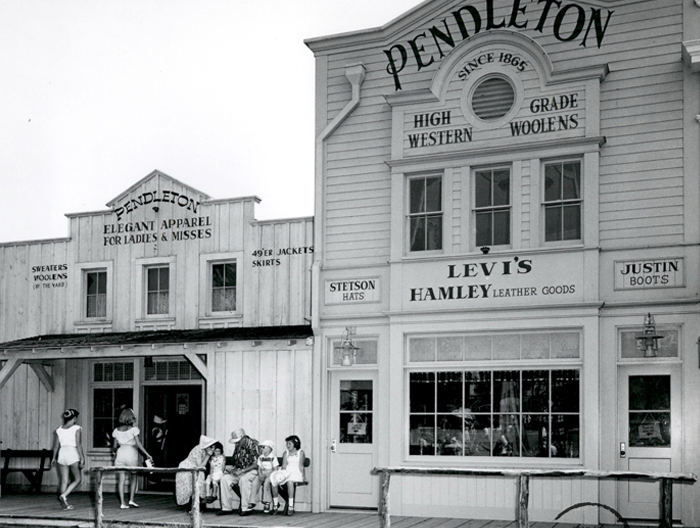 Back Home
Homer's Levi's® arrived at 98 Battery Street in San Francisco, just a few blocks from the factory where they were first made. At company headquarters, Homer's 501® jeans stayed safely tucked away until LS&Co. received an unusual invitation in 1955. A new theme park would be opening in Southern California — could LS&Co. provide something special to display in a Western-themed section of the park? Fortunately, someone remembered the worn-and-patched Levi's®.
Homer's 501® jeans travelled south to great fanfare for display in Frontierland at the newly opened Disneyland park in Anaheim, California. The Levi's® were laid out behind glass next to replica of a Wells Fargo stagecoach and photos of California Gold Rush miners. Homer's jeans were a testament to the rugged riveted denim clothing born in the American West. Disneyland visitors could see historic Levi's® and then buy a pair of their own Levi's® at the park.
On the Road Again
Homer's 501® jeans eventually traveled from Anaheim back to San Francisco, but the PR potential of the pants was just being realized. With the popularity of Levi's® booming all over the world, LS&Co. decided to open a museum in their hometown to share the company's history with visitors. "Homer" was among the first Levi's® chosen for display.
A Century of Travels
"Homer" continued to be displayed in the 21st century. In 2010 Levi's® Vintage Clothing (LVC) reproduced the Homer 501® to celebrate the jean's backstory and unusual look. The Homer LVC 501® or "Celebration Jean" was featured on the cover of New York Times Magazine.
In 2019, "Homer" took to the skies to travel to an exhibition in Bonn, Germany — more than 5,000 miles away. The well-travelled Levi's® highlighted the story of LS&Co. in California Dreams. San Francisco: A Portrait at the Bundeskunsthalle, Germany's national museum of art.
One hundred years after Homer Campbell posted them from Arizona, "Homer" traveled back to San Francisco once again, arriving just in time for the February 2020 opening of Levi Strauss: A History of American Style exhibit at the Contemporary Jewish Museum.