December 3, 2020
On June 13, 1890, a clerk at Levi Strauss & Co. sent a bill to J. Arata of Vallecito, California. Formerly called Murphy's Old Diggings, Vallecito was in the heart of gold country, a place where buying supplies when money was tight had become as challenging as finding gold. That's why it was the perfect place for LS&Co. to offer something new and much more affordable: the Levi's® Lot 201, or simply, No. 2.
"We have taken the liberty of adding to your order, a sample pair of our No. 2 riveted overalls at $7.00 per doz.," scribed the clerk in black ink 130 years ago. "This is the article that we have lately put in the market, and shall thank you to compare it carefully with any riveted overall that may be offered you, and oblige."
The Best Value Jean
The 201 offered real value compared to its cousin the 501®, LS&Co.'s top-of-the-line riveted overall. Retailers could pay $1 less per dozen for the 201, which, depending on the retailer's mark-up, could be a substantial savings for someone. After all, the average wage by 1904 was just $0.22 per hour.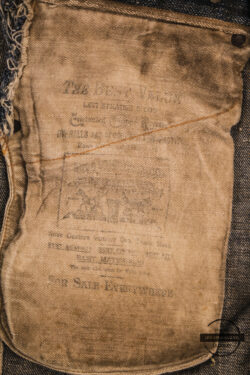 LS&Co. created this less expensive version of the 501® by selecting more affordable materials while still maintaining quality construction. The 201 was made of nine ounces of Amoskeag denim instead of the heavier "XX" denim used for the 501®, and had a fabric patch instead of a leather one. To create unique branding, the 201 had a pocket bag print that touted its features, leading with The Best Value. That's where the differences ended; the 201 still had rivets in the same places as the 501® and used the same sewing and fit.
The 201 was in LS&Co.'s line from 1890 until about 1940 and was the first in a long line of value jeans offered to fans over the years. The affordable and stylish orange Tab line introduced in the 1960s, for example, gave customers value options and was especially popular among youth.
Today, 130 years since the introduction of the 201, we still offer value lines like Signature by Levi Strauss & Co.TM and Denizen®, all with the same quality our fans have come to expect over the years.