November 23, 2020
At Levi Strauss & Co., we believe that how we make our products is as important as what we make. The Levi's® x Porto Alegre line is one example of how we're bringing that value to life and shows just how strong our commitment is to being a force for positive change in our communities.
That's why we are proud to announce that we are taking our partnership with the Porto Alegre Cooperative to the next level and launching our second Levi's® x Porto Alegre collection in more locations around Europe on November 30 — just in time for the holiday season.
This expansion follows the great success we saw last year with the first Levi's® x Porto Alegre collection in Europe. Our consumers loved the accessories we presented them in 2019 — a tote bag, a large pouch and a pencil case — so much that in just a few weeks, we had run out of products available online, and in most of our stores.
The second Levi's® x Porto Alegre line looks similar to last year's collection. All items have still been created using excess Levi's® denim and fabrics that have been repurposed in the Porto Alegre workshops by a team of refugees and asylum seekers, and every piece is unique — just like the story of the person who made it. And just like last year, 100% of the net proceeds from the collection will be donated back to Porto Alegre to further invest in their capabilities to support the vulnerable populations they serve.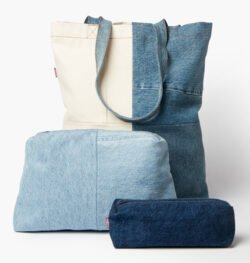 What's different this year is that we're doubling the quantity of products that will be available for purchase in our stores and online so that our fans can expand their Porto Alegre collection and purchase thoughtful holiday gifts that connect them to their community during these unprecedented times. We're also working with some of our closest retail and wholesale partners to get the collection in their locations, and are pleased to announce that this year Zalando, Europe's biggest pure online fashion retailer, is joining us in sharing this sustainability and giving back story to their consumers.
Not stopping there, we're giving our most loyal fans early access to these meaningful products, launching the collection on our Levi's® 247 app on November 26.
We're truly passionate about the work Porto Alegre is doing, and delighted to continue supporting their mission through this powerful collection that brings our LS&Co.'s profits-through-principles philosophy to life. And if you're in Europe, mark your calendar for November 30 so that you can get yourself (or your loved ones) a special Levi's® x Porto Alegre gift.