November 11, 2020
Here at Levi Strauss & Co, we recognize just how challenging these times are, which is why we are so deeply invested in the well-being of our employees through company policies and support that includes strategies and tools. That's why we have partnered with Thrive Global to help our employees take a tailored approach to managing stress in the way that works best for them.
As part of that partnership, LS&Co.'s Chief Human Resources Officer Tracy Layney recently chatted with Arianna Huffington, founder and CEO of Thrive Global, during an employee summit celebrating women's empowerment. The founder of The Huffington Post and author of 15 books, including Thrive and The Sleep Revolution, discussed the importance of maintaining our well-being. Here are some of the memorable moments.
Tracy: About six years ago, I suffered from severe personal burnout, and it was personally devastating to get to that point and not really know what to do. I read your book, Thrive, where you described your experience with that and the road to get back to wellness, and I really feel like in some ways it has saved me and my mental health. Arianna, how do we conceptualize life and work, and how have we gotten it wrong? And how might we do it differently?
Arianna: Two years into building the Huffington Post and a divorced mother of two teenage daughters at the time, I collapsed from burnout, a similar experience to what you went through. When I was diagnosed with burnout, at the time it was not really well known. My doctors said to me, "There's nothing the medical establishment can do for you. You have to change your life." And that's what started me on this journey and led to the launch of Thrive Global.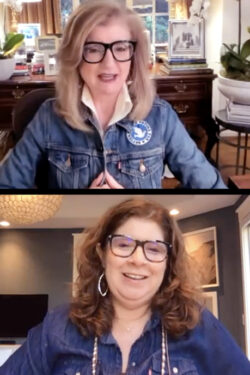 What I've learned is that goal should not be balance. It's not like we're trying to have a balance between our work life and personal life. The goal is constantly remembering to recharge ourselves, taking little breaks so that we approach both our personal life and our work in a way that's not depleted and running on empty.
That's why the Thrive app has journeys, one of which is reset. I'm obsessed with reset, because it's based on the latest neuroscience that shows that it takes 60 seconds to course correct from stress. Stress is unavoidable; cumulative stress is not unavoidable. That's where we recommend the 60-second reset breaks — I can take a 60-second break before I rush to the next thing, and that 60-second break could be a breathing break, it can be a gratitude break, it can be a stretching break.
Those 60 seconds can help us go to another neural pathway in our brain, get out of the fight or flight response, the anxiety response and move into the thriving response.
Tracy: One of the things that keeps me up at night is how the pandemic disproportionately impacts women in the workplace — women choosing to leave the workplace or downshift their careers to handle the other aspects of being a caretaker. What insights do you think will be learned during this pandemic, and what concerns do you have and how should we think about those, particularly as they relate to women? 
Arianna: This is an opportunity to address problems that were already disproportionately affecting women before the pandemic, [like] the fact that no matter how much we talk about partners and sharing the load, women are still left with a mental load. The pandemic gives us an opportunity to recognize that one way to change these outcomes is by actually treating the home the way we treat the office. When you delegate something to someone in the office you expect them to own it. We don't want partners to only help, we want them to be owners of caretaking tasks the way we structure tasks in our work life.
Tracy: What opportunities do you see that might come out of this time? And does it give you any optimism for the future?
Arianna: Right now we have an opportunity to look at what was not working before the pandemic and change that in order to build a new world where our lives are not as frantic and truly driven by this delusion that in order to succeed we need to burn out. It's a mindset shift, as well as microsteps taken to achieve the new way we want to be. And that for me is what makes me optimistic — the fact that we can change our lives by changing our habits, and we can change our habits by small, daily, incremental new steps.
At LS&Co., we are committed to the health and well-being of our employees, particularly as we navigate so much challenge and change. We're proud to partner with Thrive Global to give our employees the knowledge and tools to understand their unique stressors and how to best manage them.