November 9, 2020
Give a gift that keeps on giving – for years and often generations to come.
The Levi's® brand offers the kind of products this season that are timeless and made to last. From our iconic Trucker Jackets, layering pieces and stylish coats to unique "previously loved" vintage denim available through Levi's® SecondHand line and personalized pieces, these gifts are sure to add a special touch to any celebration.
Available in stores and online depending on your shopping preferences for this unique year, keep your holiday looks on point with the Levi's® 2020 Gift Guide.
The Levi's® Trucker Jacket – a classic staple since 1967. Worn by everyone from ranchers to rock stars, it has been a wardrobe staple for generations. Sherpa, oversized or classic – there's a style for everyone in the family, including the kids! Create the ultimate personalized gift by adding a patch, pin or monogram for a unique touch.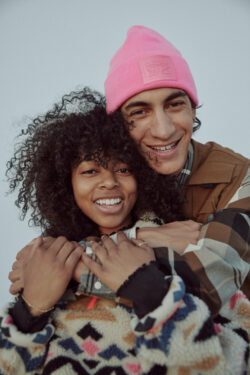 Cozy up with layering pieces. From mockneck sweaters and sherpa reversible coats for women's, to utility-inspired puffers and cozy flannels for men's – Levi's® has it all this season. Choose from a range of cozy layering pieces to gift friends and family this season. Or keep it for yourself to complete that perfect holiday look!
Levi's® SecondHand – something old but completely new. Rethink how you shop this holiday season and give better with Levi's® SecondHand. This year, the brand launched its first-of-its-kind buy-back program for a denim brand. Purchase one-of-a-kind second-hand jeans and jackets on levi.com or turn in your worn jeans and jackets in Levi's® stores for a gift card toward a future purchase.
Make it personal. Adding a personal twist to your denim is more fashionable than ever. Select Levi's® stores worldwide include Tailor Shops where you can have your favorite denim pieces altered by a team of specialized tailors. These exclusive shops offer custom embroidery, tailoring, hemming and repairs. Add monograms, embroidered patches and eye-catching pins for that customized flare.
Levi's® jeans and jackets are the ultimate canvas for self-expression and can make a unique gift for anyone this holiday season. Get to gifting today!