October 8, 2020
This week, we launched the Levi's® SecondHand platform, a place our fans can go to find and purchase worn Levi's® products. The platform gives the products a second, third or fourth life and allows consumers to know that they're getting something that's still in great shape and uses a fraction of the natural resources a new pair would require.
We talked to Jen Sey, senior vice president and chief marketing officer for the brand, to get a better sense of what the program is all about.
What is Levi's® SecondHand?
It's a buy-back and resale platform, the first of its kind for a jeans brand, that we're launching as a pilot and hope to scale up in future seasons. It gives our fans the ability to purchase second-hand Levi's® jeans and jackets online and to turn in worn jeans and jackets in-store for a gift card toward a future purchase. So, we're encouraging people not to throw away used – or "previously loved," as I like to say – denim, and help them see that second-hand garments deliver the same value and are still built to last while preserving the natural resources that would be needed to make a new pair of jeans.
As an added bonus, fans are able to track down unique, one-of-a-kind pieces – that is really fun. At the end of the day, what's better than a perfectly worn in pair of Levi's®?
How does it work?
If someone brings in worn Levi's® that can be resold, we'll offer them between $15 and $25 in store credit. If it's vintage, we'll give them between $30 and $35. We'll then post the garments on the SecondHand marketplace on levi.com, selling them for roughly $30 to $100.
We're working with a company called Trove on this, a recommerce tech and logistics startup that's doing amazing work in this area. They're handling the back end, which means they'll clean the garments, process the inventory and fulfill orders, helping us extend the life of denim and helping consumers participate in a more circular fashion economy.
I should add: even if someone brings in jeans that are too worn out to sell again, we'll still offer them $5 toward a future purchase. We will then get that denim to Blue Jeans Go Green, a partner we've been working with that converts used denim into insulation for buildings, a greener alternative to standard insulation.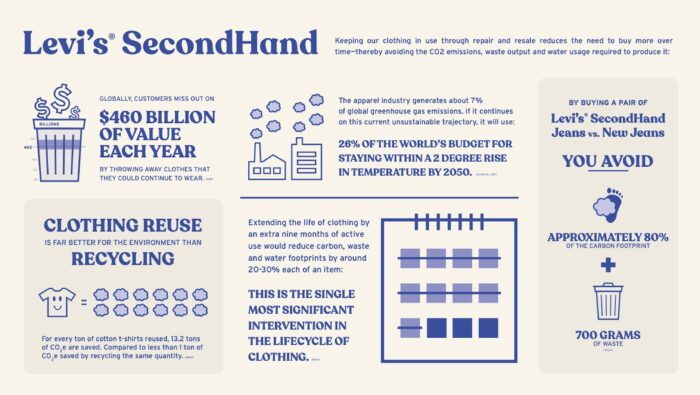 Why is this program important for the brand and the company?
Our industry makes too many clothes, full stop. And people are wearing their clothes fewer times. That's a disaster for natural resources – all the water that's used, all the chemicals, all the energy. It's not at all sustainable. So we're focused on encouraging consumers to buy what they love, live with it and love it longer. Repurposing and repairing jeans uses only a minimal amount of energy, a minimal amount of water and no dyes. Buying a used pair of Levi's® saves approximately 80% of the CO2 emissions and 1.5 pounds (700 grams) of waste compared to buying a new pair of Levi's®. That's every pair. As we scale this SecondHand program globally, that will really start adding up.
A lot of consumers these days are starting to recognize this, and looking to make more conscious, more intentional decisions about what they buy and what they really need. That's part of why the recommerce market is booming right now. It's been estimated at $28 billion right now and projected to grow to more than $60 billion over the next five years.
So SecondHand is a chance for us to offer consumers used Levi's® at a more accessible price point for something super unique and special. It's a chance for us to move in the same direction as consumer habits are going, especially Gen Z. When I look at my own teenage sons, they love the hunt of thrifting and finding something super unique. It's also a chance for us to reduce the environmental footprint of our products, at every stage of their life cycle, and to keep moving toward more circular products.
We make products that are built to last with timeless style. We can make them last even longer through SecondHand. This is a win for everyone. We want to make SecondHand second nature. This launch is the first step, but definitely not the last one.
Shop Levi's® Secondhand now at secondhand.levi.com.