July 30, 2020
In November 2018, The Vault Museum at Levi's Plaza in San Francisco unveiled a new look that included the Tell Us Your Levi's® Story Station, a kiosk that captured Levi's® stories from fans. At the station, visitors were invited to listen to others' stories or record their own memorable Levi's® experiences. Those audio stories were then sent to museum staff — usually me — for review and posting.
Now, the Tell Us Your Levi's® Story Station has gone virtual, opening up the station to a whole new audience online.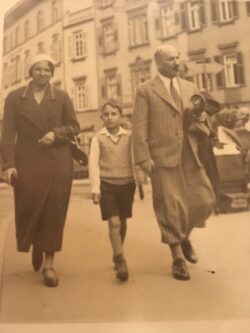 Levi's® fans from around the world can now use the web-based story platform by Enwoven, a Bay Area technology start-up company. For example, stylist Phyllis Leibowitz, who has outfitted rockers like bandmembers from Def Leppard to Metallica for years, shared her memories from her location in New York.
Eric Gattman, who lived in Stuttgart, Germany in the 1930s, shared his story about how Levi's® played a role in saving his family from the Nazis during World War II, after they received a windfall inheritance from an uncle who was selling Levi's® in Sacramento at the time that allowed them to immigrate to safety. Roberto Lacona spoke of his Levi's® leather jacket that protected him in an accident in his village in Venosa, Italy. Other stories are more recent, like Adrian Orona's Levi's® New Mexico mine discovery and Johnny Gregorek describing how he ran the fastest blue jean mile in history at Dobbs Ferry, New York. You can listen to these stories and more by selecting a place on an interactive map or choosing a photo from the content section that captures your interest.
Since the launch of the Story Station, the platform has amassed almost 150 stories—and counting. These stories have not only become permanent parts of the Levi Strauss & Co. Archives; each one helps me understand the shared history of a beloved brand and when, where and how our products have been used, who our fans are and how they live in Levi's®.
Want to become part of the Levi's® legacy? Tell Us Your Levi's Story and record your own!