July 17, 2020
Spanning two stories and 220 square meters along Calle Preciados in central Madrid, the newest Levi's® store opens at a time when the in-store shopping experience has carefully evolved with these unprecedented times.
Originally planned for an April opening, Levi's® Preciados was delayed in part due to the outbreak of the coronavirus, but with new precautions in place to temper pandemic concerns, the store was able to safely open its doors this week.
The new location not only houses Levi's® menswear and womenswear collections as well as Levi's® Made & Crafted®, but it also features a unique space the brand is calling Levi's® Casa.
The upper floors of the building houses this new venue which is designed to spotlight creativity, customization and cultural life in Madrid. It also cements the bond between Levi's® and music with a fully equipped recording studio, a unique opportunity to celebrate the capital's vibrant music scene.
"Levi's® wants to raise its profile in the capital and strengthen its bond with the local creative scene with the innovative Levi's® Casa space," said Diana Dimitian, vice president of Levi's® South Europe.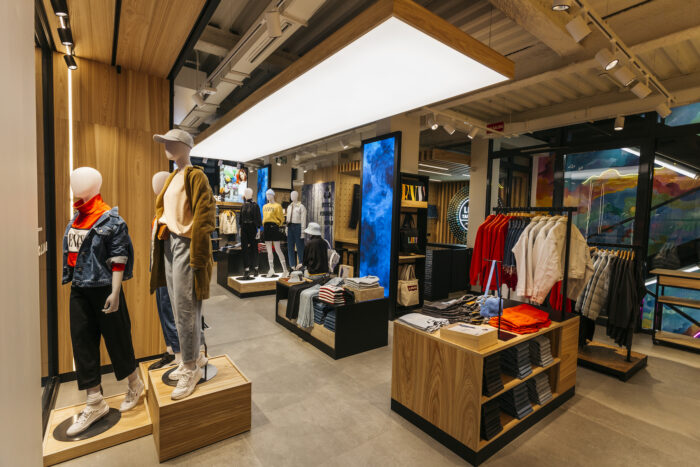 Other stand-out store details include a Tailor Shop offering full denim customization services, an embroidery machine and a Levi's® Print Bar allowing consumers to personalize their T-shirts and sweaters.
To bring the overall space to life, local artist Mr Piro created a large bespoke mural that blends his paintings with neon lights and denim canvas. To mark the opening, Mr Piro's designs will be available in the coming months at the Levi's® Print Bar where consumers can personalize T-shirts with the Madrid artist's renowned work.
Levi's® Preciados also offers innovative touches to the shopping experience with LED screens that explain different Levi's® fits and push buttons in dressing rooms to get help from sales assistants without needing to move.
"Having a new store in a central location like Calle Preciados, an emblematic area of Madrid, is really exciting for us," Diana said. "We believe that our jeans are a token of self-expression and can't wait to [share that with] the people of Madrid."