June 3, 2020
Pride 2020 may come with physical limitations, but it doesn't damper the spirit of the month.
The Levi's® and Dockers® brands have launched their Pride collections in time for June, with both designed to promote community and optimism at a time when celebrations have transitioned from parades to virtual festivities to keep connections alive under difficult times.
"If resilience is defined as being able to adapt in times of stress, then resilience is our lifeline right now," said Jarrett Lucas, executive director at the Stonewall Community Foundation, which is once again partnering with Dockers® for Pride Month. "I see so much strength being exhibited by my community right now. The LGBTQ+ population in particular experiences some serious struggles, existential threats, including violence, homelessness or not being able to meet basic needs. I think this pandemic magnifies that. But I think we will come out on the other side, perhaps stronger, more capable."
Since the inception of Levi Strauss & Co., we have championed equality, inclusiveness and progress. From integrating our factories during the 1950s, before the Federal government made desegregation a law, to working to overturn Proposition 8, which banned gay marriage in California, LS&Co. has always put people over profit. In 1992, we were the first Fortune 500 company to extend health benefits to same sex partners, and since then we have worked hard to promote equal rights and fair treatment for LGBTQ+ people everywhere.
'Use Your Voice' in Levi's®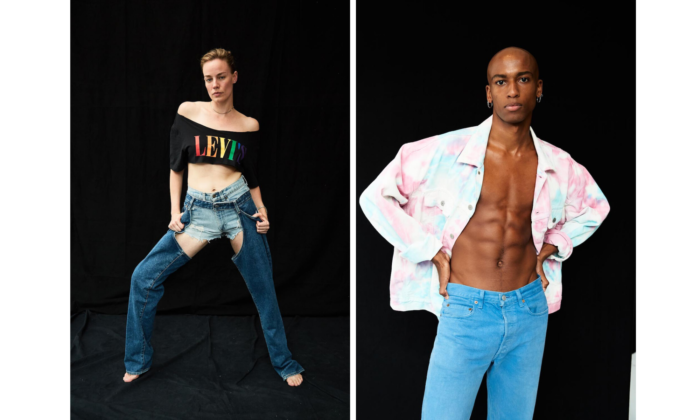 Adopting "Use Your Voice!" as a rallying cry, this year's collection is all about maximizing self-expression. The collection includes a range of graphic tees with the Levi's® box tab logo and Use Your Voice in the new Levi's® serif logo. Also look for denim Trucker Jackets in a stonewashed indigo and a faded tie-dye featuring Use Your Voice graphics embroidered on the back, which can be paired with matching indigo and faded tie-dye denim shorts. Other standout pieces include a lavender crop top tee with the Levi's® serif rainbow logo, a special clear iridescent Trucker Jacket with a holographic rainbow overlay and even pair of Pride stonewash denim chaps! Completing the lineup are a range of accessories including socks, underwear, a Flex Fit cap, bandana with rainbow overlay, a clear iridescent banana sling and more.
"At Levi's®, we've been longstanding advocates for equality – never afraid to use our voice to do what's right for our employees, our partners and our fans," said Jen Sey, senior vice president & chief marketing officer, Global Brands at Levi Strauss & Co. "In turn, we are also proud to support those who speak up for equality, who use their voices to drive progress and make a positive impact in their communities. This year's Pride collection is both an encouragement and a celebration of those that use their voices to change the world."
In alliance with Self Evident Truths – a photographic project by iO Tillett Wright documenting 10,000 people who identify as anything other than heteronormative – the Levi's® Pride 2020 collection is inspired by the resilience and beauty of a community continually speaking up in the face of institutional injustice. The campaign features real people captured by iO, with 100 percent of net proceeds going to OutRight Action International, a nonprofit working year-round at the international, regional and national levels to research, document, defend and advance human rights for LGBTQ+ people around the world.
"We are proud to be a partner of Levi's® and see the Levi's® Pride Collection as a critical reminder that we all should have the right to be out, proud and visible no matter where we live, who we are or who we love," said Jessica Stern, executive director with OutRight Action International.
Shop the collection now and check out Self Evident Truths as well as OutRight to learn how you can make a difference in your own community.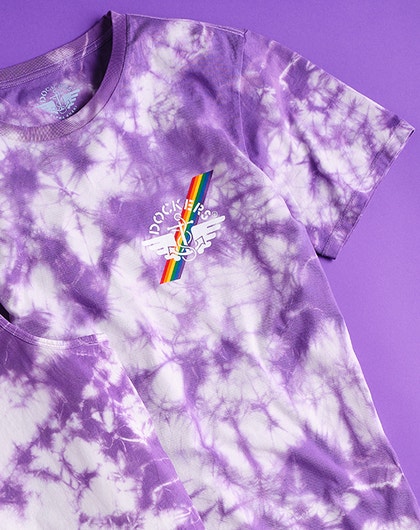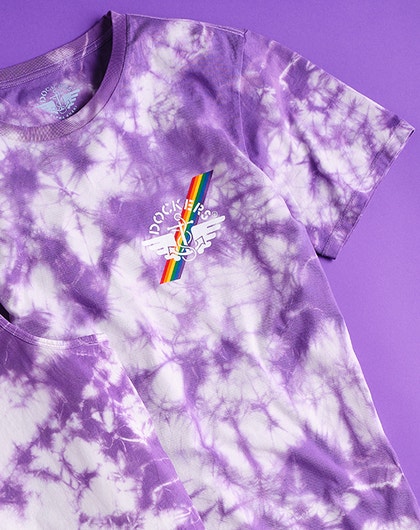 #AlwaysProud with Dockers®
The Dockers® 2020 Pride Collection features three unisex styles: a tank top and T-shirt – both 100 percent cotton – and rip-stop cotton, drawstring shorts. Offered in a distorted tie-dye print in bright purple colorways, each product features the Dockers® 1986 logo with diagonal rainbow detail.
"Our message is Always Proud, acknowledging that pride is an everyday value," said Lauren Johnson, global head of marketing for Dockers®. "It is a true honor to collaborate with Stonewall Community Foundation and some of their partner organizations and promote their impactful and inspiring work. At Dockers®, equality and inclusivity are pillars of our brand and our hope is to use our platforms to offer some positivity and sense of community during an unprecedented year."
This is the second year Dockers® is partnering with Stonewall, which focuses on strengthening the LGBTQ+ community by making smart, values-driven investments in dynamic organizations, projects and leaders within New York City.
The Dockers® Pride 2020 collection is now available on Dockers.com.