March 5, 2020
Like all new hires here at our San Francisco headquarters, Dominic Robinson visited the Vault, a mini-museum featuring key artifacts from our Archives, during his first week as part of new hire orientation. There he met LS&Co. Historian Tracey Panek, who pulled out a loaned piece on display: a Levi's® vest worn by Papa Joe, one of the founding members of the East Bay Dragons, the oldest Black motorcycle club in the U.S. As Dominic listened to Tracey tell the story of the vest and the Dragons, a lightbulb went off. 
"As soon as Tracey said East Bay Dragons, that immediately got my attention," Dominic said. "I got really excited and I told her, 'I think my grandmother actually knew Papa Joe.'"
Tracey and Dominic talked after the presentation, with Tracey asking him about his grandmother's experiences and for her story. "I loved hearing that Dominic had a personal connection to the Dragons and Papa Joe," she said. "It made the experience real for the entire group and helped bring his Levi's® story to life."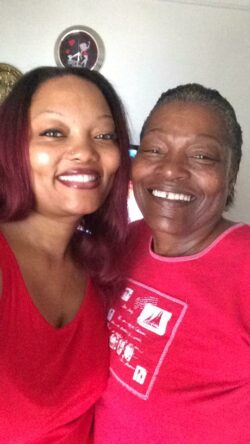 Dominic could only remember bits and pieces, however. All he knew for sure was that she'd played pool at their clubhouse and competed in billiards tournaments hosted by the Dragons. So, to help fill in the gaps, Dominic turned to the best source: Janyth Hobbs, his grandmother.
Janyth had recently moved to Ohio, so Dominic started by sending her an email asking about the East Bay Dragons and if she'd ever met Papa Joe. To his surprise, she was happy to tell him all about her time with the club. "My grandmother isn't a person to always share her business," explained Dominic. "But with this, she was glad to help."
He learned that she'd been affiliated with the club since she was just 12 years old and the club was in its early days. She'd played pool and competed in tournaments hosted in their club house for decades, traveling everywhere from Detroit to Los Angeles and being an active member in their community. She even knew about Papa Joe's vest.
"She confirmed a lot of what Tracey had said about the vest, like the biker rule that only biker men could touch it," Dominic said.
A few weeks after he first saw Papa Joe's vest in the Vault, Dominic was among the Plaza employees who got to meet the founder and other members of the East Bay Dragons when they visited our San Francisco office. More important, however, is the rekindled connection he has with his grandmother. The two have been talking regularly since, and Dominic even has plans to visit her in Ohio.
"It's definitely gotten me closer to my grandmother," he said. "The best thing about this experience is knowing more about my history and where I come from."
Not too shabby for an old Levi's® vest.