February 24, 2020
This month, the Levi's® brand launched the Levi's® XX Chino, a new platform that delivers on fit, comfort and style.
The Levi's® XX Chino color range goes well beyond standard khaki to include seasonal hues of pink and jade blue, alongside the classic black, olive green, and navy. In addition, the collection features garment dyed chinos — which allows for a more worn-in, casual look and feel that isn't too crisp or precious — a perfectly broken-in pair of chinos right from the get-go.
For the 2020 collection, the brand is partnering with Khalid and his close friend and Los Angeles-based photographer Ro.Lexx on the campaign that plays with fresh, vibrant colors through a relaxed lens that captures the singer/songwriter's personality and attitude.
While Levi's® is synonymous with denim, Auvy Ruelos, senior designer for the brand's "Beyond Denim" team focusing on men's bottoms, said non-denim is not new to the brand and clarified the XX strategy.  "Levi's® has actually been doing it forever, but right now there is an actual focus building out our non-denim business," he said, adding that the partnership with Khalid is the perfect pairing for this season's assortment. "Because of the attitude that's put into the design and just the functionality that it has –  the comfort, the color – it feels like it represents him and it feels younger, which is always really exciting."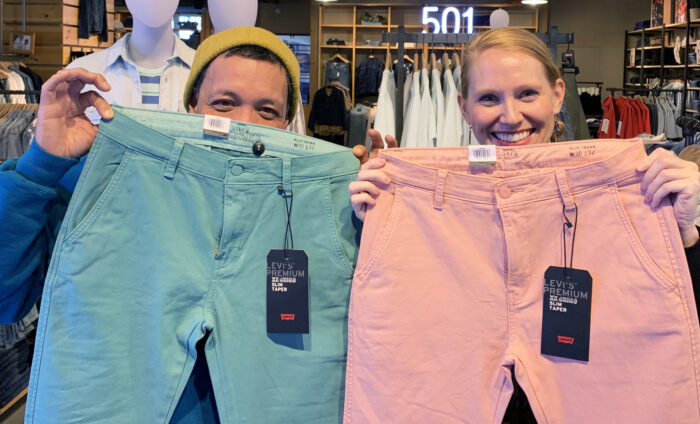 Heather Walsh, senior merchant for the Beyond Denim team, agrees. "In the Men's Apparel market, there's a whole vibe of wanting to be more comfortable on a daily basis," she said. "The XX Chino is that youthful take."
As one of the guys behind the XX Chino color palette, Auvy says he and the team had a blast designing colors for Khalid adding, "to have someone that's really relevant right now and really excited about wearing the product, and it looks good on him and he feels good – it's great representation for the brand.  I think that's really exciting."
The Khalid for Levi's® XX Chino collection ($78.00-$88.00) in now available globally at Levi's® stores and Levi.com.