February 18, 2020
To celebrate Black History Month, this year the Levi's® brand has launched a limited collection with Gianni Lee, a multidisciplinary visual artist whose images explore the Black experience in America. Featuring three graphic tees and a pair of Levi's® Future Finish Jeans, Levi's® x Gianni Lee is a showcase of the Philadelphia-based artist's work and a celebration and reflection of Black community and culture.
"As a Black person in America, the layers and complexities of my history were never taught to me — only the bare minimum. I had to do the research myself," Gianni told Levi.com. "I found an abundance of culture that I never knew existed, and I just translate these things into my art. When you see these skeletons around the streets [in my paintings], that's like my own form of hieroglyphs. It's very multilayered and it means things to me. It's me telling my story."
With a capsule collection so focused on celebrating the power of using your voice and embracing your authentic self, it was only natural that Project Onyx, our Black Employee Resource Group (ERG), was one of the teams involved with the collection's creation.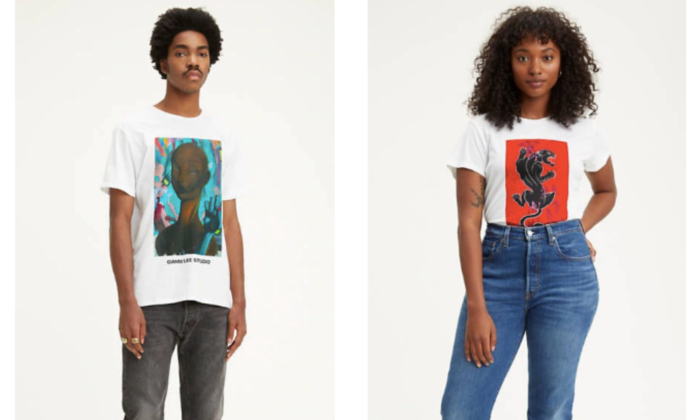 Charis Marquez, head of Wholesale.com, LSA Digital and one of the executive sponsors of Project Onyx, worked on this cross-team effort, collaborating with product, design, merchandising and brand partners as well as Gianni Lee himself to create the brand's first Black History Month collection.
"We wanted to make sure that our Black History Month product was about inclusion and about celebration," she said. "So, we worked with the artist to get the design to a place where it was an accurate representation of that spirit."
The teams went through a few rounds of designs before settling on the products now available to U.S. consumers.
"It was an amazing experience," said Charis. "From a career standpoint, this work helped me see how we do things as a company for a large, cross-functional project that touched many teams. Personally, it feels good to know that you're being heard — that there was someone in the room, whether it was me or someone else, representing our perspective and raising concerns that others might not have thought would be an issue."
She added, "I'm really excited to see how consumers respond to the collection — but more importantly, I'm excited to see how employees respond. For me, this is also about ensuring that our Black employees feel that we care about them,  the company supports them and our culture, and that we can bring our authentic selves here."