February 3, 2020
Trying to pull off the ultimate business casual style? Let the experts guide you.
The brand who defined "Casual Fridays" is back with a slick guide for guys who want to come stylishly correct to work while maintaining their individual self-expression. Introducing the Dockers® New Casual Book.
Building on its momentum in Europe, the brand has launched a new guide in an effort to help men transition from "Casual Fridays" to "Casual Everyday."
A Casual History
Of course, the concept isn't a new one for the Dockers® brand. Back in the early 1990s, the brand famously initiated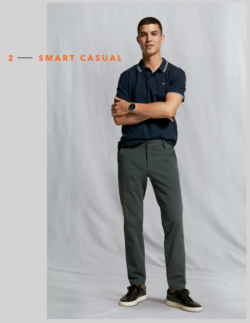 "Casual Fridays" by sending an eight-page Guide to Casual Business Wear manifesto to 25,000 HR managers across America, suggesting they and their employees  swap their suits for chinos. With handy tidbits such as "consider the style and tone of your outfit when choosing belts scarves and jewelry," the guide provided instructions as well as handy visual inspiration. And it worked! Today, Casual Fridays is as much a part of the office vernacular as "no-meeting Fridays."
The new 'Casual'
In conceptualizing the New Casual Book, the Dockers® Europe team didn't just rest on its storied laurels. They conducted actual research, surveying European millennial men about their business attire and how it affects them in their workplace, to back their efforts. And what they found in their Work Dress Code Study were stats like:
– Companies with a casual dress code are 75 percent more attractive for workers
– Nine out of 10 millennials feel happier at companies where they can choose what to wear to work
– 75 percent of European workers admit they need orientation on dressing casual
"The main insight is the millennial generation need for a versatile dress code to match a lifestyle that requires more fluidity between work and social life. In that context, the Dockers® 'Always On' campaign could not be more relevant," said Joan Calabia, brand marketing director of Dockers® Europe.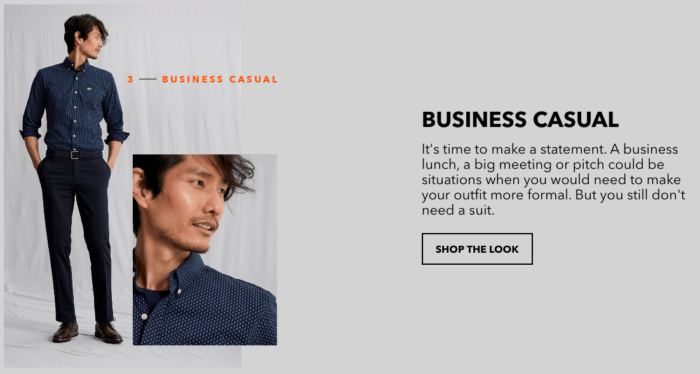 And so, the Dockers® team comprised "a comprehensive visual guide with pretty much everything you need to ride and enjoy the casual wave back and forth from work to your everyday life."
"Today, to dress smart at work, you don't need a suit. And Dockers can own that space as the originator of the casual Friday movement in the '90s," Joan said. "What we are doing is leveraging the heritage of the brand to make it more modern and relevant for 2020 through a product offering based in fabric innovation, style and comfort."
The new book provides guidance around everything from what to wear to a job interview to how to dress like the man you want to be and how to go from the "desk to the playground." It then walks men through an array of offerings from the brand's Smart 360 Flex™ line, including its Supreme Flex khaki and the Smart 360 Flex ultimate button-up shirt. According to the guide, the product line is two-fold. "Our thoughtful innovations and meaningful details have always served a purpose, not a trend. Our commitment to innovation has allowed us to develop technologies that help the man of today become the best version of himself."
No need to worry, Dockers® is here to help you get ahead – and keep it casual.
Check out the Dockers® Casual Book now.