December 19, 2019
Becoming a Levi's® designer wasn't Dan Weinberg's original dream job. "I always wanted to be a cartoonist," he shared with a group of designers and employees when he visited the Levi Strauss & Co. Archives – almost 50 years since his last day with the company.
Dan's conversation with current designers, and his surprising career path, reflect how much LS&Co. has evolved over the decades — and how some things never change.
1960s Levi's® design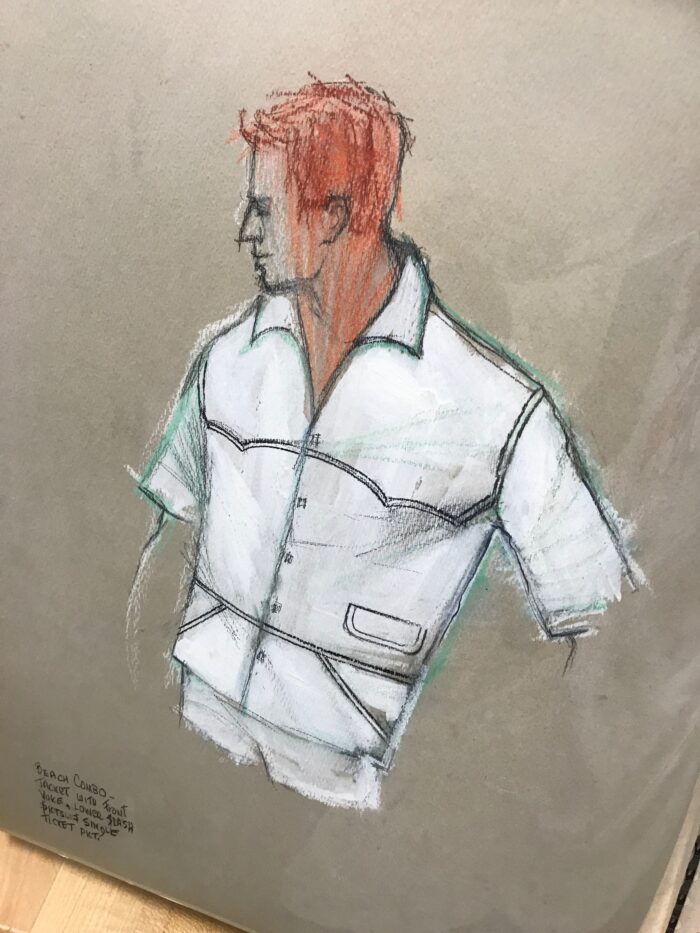 When Dan started at LS&Co. in 1958, he was hired as a sales trainee. "Back then, the sales team was company royalty," he joked. But Dan didn't stay in sales long. "I was afraid of being sent to some remote location like Pocatello, Idaho," he remembered. Dan moved to merchandising and continued sketching on the side, occasionally creating illustrations for the employee newsletter, Saddleman's Review.
By the early 1960s, Dan was working in Western Wear and Casuals, where he would occasionally share his sketches for pant ideas. The company eventually took notice and realized his potential. With only one other professionally-trained designer on staff at the time, LS&Co. invited Dan to study at the Fashion Institute of Technology (FIT) in New York. "It was a condensed one-year program," he remembers. Dan studied color, fabric and other subjects, and was talented enough to win several design contests.
Dan returned from New York to design shirts and other clothing for the Levi's® for Gals (known today as simply Women's Apparel) and Western Wear — a line that no longer exists separately. Dan would share sketches of possible designs and wait for feedback. Being one of the only company designers at the time wasn't without its challenges, however. "It was tough," Dan admitted.
Dan left LS&Co. in 1973, eventually becoming an art dealer and gallerist. Even though his career has taken several twists and turns, he has nothing but fond memories for the company. "It was always progressive and always provided great opportunities," Dan said.  "It was a wonderful professional experience for me."
Levi's® design, yesterday and today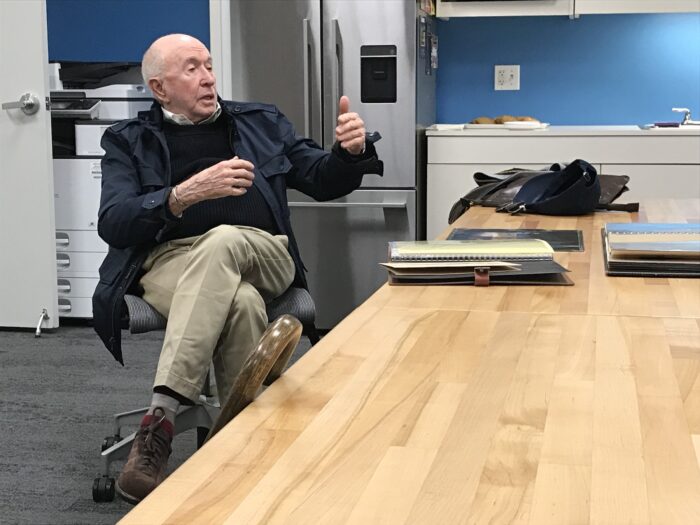 Along with a few Levi's® for Gals garments I pulled out from our collection, Dan also shared his sketchbooks, showcasing just how much the design process has changed in the last half century.
"It's important to see how things used to be done," said Matt Duckett, director of Levi's® Graphics. "I feel it's important to see the skills that he had, like hand drawing — I don't want to see these skills disappear and be forgotten. I might even employ Dan to do some graphics for me!"
Cristobal Aleman, an assistant designer whose primary tool is a computer rather than a sketch pad, agreed. "I learned [from Dan] that the industry evolves and so do its processes."
Levi's® Men's Assistant Designer Angela Fusco appreciated hearing about Dan's experiences and seeing how the products he designed reflected the brand's personality. "I really enjoy visiting the archive and looking at our historical pieces," said Angela. "Knowing that Dan was the creator of some of those pieces as well as being able to discuss and understand his design process during his time here is such a unique and special way to instill integrity into my own designs so many years later."