December 5, 2019
In the heart of the Wynwood Arts District in Miami, the Levi's® brand has erected a 43,000-square-foot pop-up customization experience unlike any other before it. Levi's® Haus Miami officially launches today – in time for the kickoff of Art Basel – housing Levi's® premium products, its largest and most innovative Tailor Shop, interactive one-of-a-kind experiences, technical innovations, in-house artist collaborations and one of the best places to lounge in the Wynwood, Miami area.
"Levi's® is excited to bring a full customization experience to life at Levi's® Haus Miami for our fans who have been personalizing their favorite jeans for decades," said Jennifer Sey, CMO Levi Strauss & Co. Global Brands. "Now we can help them do it with advanced techniques like Future Finish, laser powered technology that lets the consumer customize their jeans with one of kind finishing details. This retail space in Miami is purely dedicated to self-expression, helping Levi's® fans create their next favorite item of clothing that they can and will wear for years to come. What better place to create this experience than at the center of the thriving art scene, Wynwood."
Constructed out of 12 shipping containers, Levi's® Haus Miami features a two-level concept shop with a curated assortment of the brand's best offerings – Levi's® Premium Red Tab, Levi's® Authorized Vintage, Levi's® Made & Crafted®, Levi's® limited edition product with exclusive drops throughout its duration, and Levi's® largest Tailor Shop.
A Tailor Shop Like No Other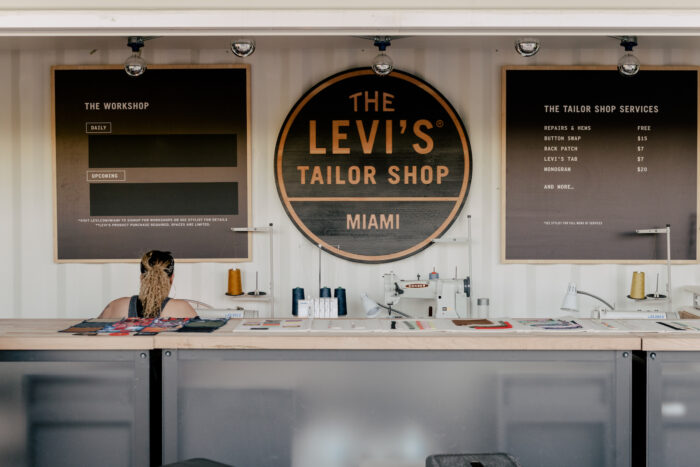 The Tailor Shop will feature Levi's® most comprehensive selection of customization with multi-level offerings through its Design Studio with Future Finish, Tailor Shop, and Tailor Shop To-Go, along with basic tailoring needs and free repairs. Additionally, consumers can work with tailors and artists to collaboratively design and customize several options through artist workshops.
During the week of Art Basel, 625 Industries will be the Tailor Shop design residents — led by César Pérez, Antoinne Thomas, Brick Owens, and Duey Catorze. Artist collaborations and full bespoke customization workshops will kick off with contemporary street artist Shepard Fairey, fine artist Gianni Lee , painter and model Omayhra Mota and, and graffiti artist Futura. Note that Art Basel programming details are available at ​levi.com/miami (all workshops have limited availability and you will need to be on-site to win access).
Additionally, the Levi's® Tailor Shop To-Go features grab and go customization from a "take-away style" menu with under-10-minute options – think button swaps, back tab and back patch options, monograms, and a direct-to-garment print shop where pre-created graphics can be printed on tees.
Design Studio with Future Finish​
Levi's® most advanced and innovative technology allows you to personalize your jeans with one of a kind detailing and will be offered in person for the first time ever to our fans. You can book a one-hour appointment either ​online or at the on-site Design Studio where Brand Stylists will help you find your perfect fit before you design your creation on the Future Finish 3D app experience with the latest Future Finish patterns and tints exclusive to Levi's® Haus Miami.
Innovative Exclusives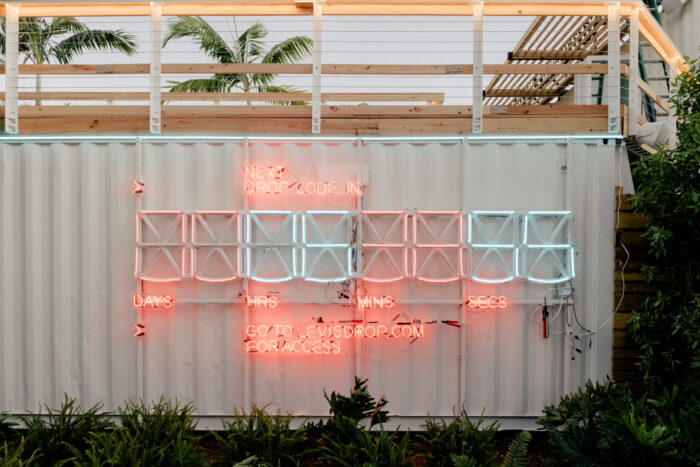 Levi's® Haus Miami will also feature new innovative technologies to announce and fulfill exclusive product drops, experiences, and more. Developed in partnership with Jam3, on-site visitors will be able to access upcoming drops and workshops through a digital drop clock screen, unlocking product access by tracing a unique pattern on their personal device, and using a unique QR code to self-activate an infinity mirror carousel pick-up. These limited-edition drops will be announced on Levi's® Instagram and Twitter, and in the new year they will be available for purchase to consumers outside of Miami. Throughout Levi's® Haus Miami, there will other opportunities (i.e. register to VOTE via Rock the Vote) and on-site storytelling about artists, technology, and innovation.
Keeping it clean
The Levi's® brand is keeping its Haus in sustainable order – the Levi's® Future Finish process will use recycled water on site and Levi's® Haus Miami has partnered with local compost partner ​Fertile Earth​, local recycling partner ​Lady Green​, Jaden Smith's ​Just Water​. Levi's will also continue to partner with local business and organizations like the newly opened Museum of Graffiti.
If you find yourself in Miami, Levi's® Haus Miami is not to be missed. The Haus is open Monday – Thursday from 11 a.m.- 8 p.m., Friday – Saturday, 11 a.m. – 9 p.m., and Sunday 11 a.m. – 7 p.m. Future Finish hours are Monday – Saturday, noon – 6 p.m., and Sunday, noon – 5 p.m. For more information, go to ​levi.com/Miami.